Fantasy Football Goes Network Marketing
June 8, 2016
By Team Business For Home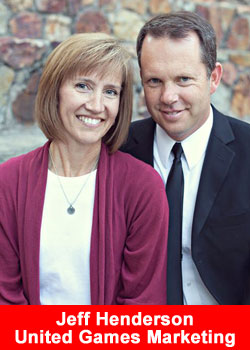 In the Fall of 2016, United Games Marketing (UGM) will launch the first live, interactive sports app in direct marketing history to coincide with the NFL season. Online game apps are projected to be a $100 Billion dollar industry in 2017.
That's the market United Games is entering into and they hope to become a billion dollar company competing in the app game space.
At the helm of UGM are industry veterans who have the experience and skill to make good on the opportunity: Jeff Henderson was VP Global Supply Chain for Nu Skin Enterprises, Natalyn Lewis, had a successful tenure as Senior Director of Marketing at Nu Skin and Roger Ulmer, who is responsible for global sales expansion, has successfully owned and operated several international companies with a global sales force.
The first game will be released to coincide with the NFL football season. The name is still a trade secret, but players will compete during live games by calling plays while the game is playing live. Calling the play correctly allows you to earn points and status in the game. As you reach benchmarks of achievements, you earn awards" said John Zehr of SharePlayEarn.com.
More games could follow soon thereafter. Soccer, baseball, basketball, and hockey are all prime targets for United Games. Globally, soccer (futbol) has five times as many fans as American football. 3.6 billion people watched the last World Cup championship game.
"United Games will generate revenue in several important ways", said Zehr. "They'll use a "freemium" download model. Players can play the game for free, but they can unlock greater game play and additional features in the app if they purchase tokens (the game's virtual game currency) or watch targeted advertising similar to Angry Birds or Candy Crush." Candy Crush did $375 million in revenue in the first quarter of 2015 alone.
While all the details about the Affiliate commission plan have not yet been divulged, sources close to the company say they'll pay out revenues to nine compressed levels of affiliates. "Given the global appeal of sports games, I anticipate United Games will become a household name in record time", said Zehr. "The income potential is truly staggering."
Importantly, United Games will not be designed for gambling. Companies like FanDuel and DraftKings have come under fire and forced to pay large fines to state governments that regulate online gambling.
United Games won't have that problem. It's not a gambling site so it will be suitable for players of all ages.
United Games is an online game company founded by sales and marketing veterans, not a direct sales or marketing company founded by game players. That's an important distinction to Zehr. "Direct sales and Affiliate marketing is a sales model that requires special skills and resources", said Zehr. "United Games has invested a great deal of money in production and infrastructure. There's no monthly product purchase and no physical product to sell or ship. It's completely digital. United Games isn't a network marketing company, however, it does allow their Affiliates to get paid on multiple levels of income.
The game is also in great hands with CTO Ben Eggett on the controls.
"With these people running the show, I believe we'll see record incomes in UGM", said Zehr Becoming an affiliate with UGM is by invitation only.
"We're very early in the growth cycle of United Games. There's no charge to be an affiliate until the game launches this Fall. That gives us time to build a large team of motivated affiliates just in time for kickoff", said Zehr.
Once the game goes live, registration to be an affiliate will cost $29.99 for a technology suite and a monthly technology subscription of $9.99. "Being able to run a global online business from your smartphone is the ultimate dream for entrepreneurs. United Games is going to make that dream come true."
Facebook comments are closed as the number of spam / recruitments comments are ridiculous high – Ted Nuyten