Nature's Sunshine Products Named One Of Healthiest Companies In America
June 28, 2016
By Nicole Dunkley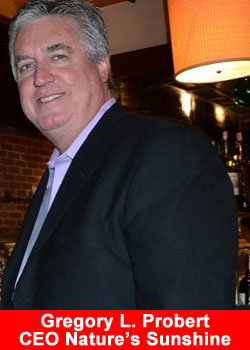 Nature's Sunshine Products, Inc., a leading natural health and wellness company engaged in the manufacture and direct selling of nutritional and personal care products, announced that it is once again among the Healthiest Companies in America, according to research by wellness solutions firm Interactive Health.
To compile its annual list, Chicago-based Interactive Health evaluates approximately 2,000 companies each year.
Honorees must achieve wellness program participation rates in excess of 70 percent, and a low-risk health score for their total population, based on clinical health evaluations.
In 2015, just 154 companies made the cut. NSP is the only company to earn the award for nine consecutive years.
"The tremendous executive support of our wellness program and its many options is what makes such an award possible," said Christine Frazier, Manager of Insurance Benefits and Wellness at NSP. "Their support, combined with the efforts and dedication of our employees, have made our company a happier, healthier place to work."
The Utah-based company, which sells a range of natural health and wellness products, has sought to promote a "culture of health" at its corporate office. Employees receive complimentary NSP products and are rewarded for participating in various health initiatives, such as a 12-Week Fitness Challenge, an annual 5K Fun Run and gym membership reimbursements.
"The Healthiest Companies in America award recipients prove that employers can both engage their employees and improve their health outcomes," said Cathy Kenworthy, President and CEO of Interactive Health.
About Nature's Sunshine Products
Nature's Sunshine Products, a leading natural health and wellness company, markets and distributes nutritional and personal care products through a global direct sales force of over 576,000 independent Managers, Distributors and customers in more than 40 countries. Nature's Sunshine manufactures most of its products through its own state-of-the-art facilities to ensure its products continue to set the standard for the highest quality, safety and efficacy on the market today.
The Company has four reportable business segments that are divided based on the characteristics of their Distributor base, similarities in compensation plans, as well as the internal organization of NSP's officers and their responsibilities (NSP Americas; NSP Russia, Central and Eastern Europe; Synergy WorldWide; and China and New Markets). The Company also supports health and wellness for children around the world through its partnership with the Sunshine Heroes Foundation.