President Of Jusuru International Appointed To DSA Board Of Directors
June 7, 2016
By Nicole Dunkley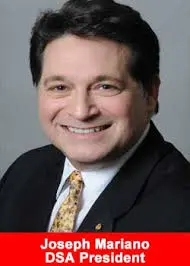 The Direct Selling Association (DSA) at its annual Board of Directors meeting announced that Asma Ishaq, president of Jusuru International has been appointed to its Board of Directors.
Joe Mariano, DSA president, said, "We're honored to have Asma Ishaq join the DSA's Board of Directors. Her valuable insight will help shape the future of our distribution channel. I'm proud to have watched Asma's company grow since its inception. I look forward to her many forthcoming contributions to our industry's success."
As President of Jusuru International, Ishaq has united experience and vision to establish innovative concepts in health and beauty.
Her extensive background in product development, formulation, and manufacturing of nutritional supplements and skincare has been conducive to the marked success of Jusuru's Liquid BioCell®, the premiere line of patented liquid collagen and hyaluronic acid nutraceuticals, nutricosmetics, and skincare in the direct sales channel. Ishaq earned her BA from the University of California, Berkeley. In addition to graduate studies at Princeton University, she received an MBA with a dual concentration in finance and marketing from Rice University.
"It's an absolute privilege to take an active role in the Direct Selling Association and be on its Board of Directors," Ishaq states.
"The Association has been instrumental in our company's success, communicating to our customers and distributors that we adhere to highest standards in business ethics that the DSA requires. I look forward to having an influence on the general channel as it continues to grow, and giving back to the DSA by serving on its board."
Jusuru International has been a member of the Direct Selling Association for four years, and has earned the distinctive Code Communications Initiative award for their efforts in generating enhanced awareness about the DSA Code of Ethics and promoting adherence to the Code within their company, salesforce, and consumers.
As well as its focus on business ethics, Ishaq's company is especially proud of its chartered commitment to social responsibility. Since its inception in 2010, Jusuru International has rehabilitated orphanages in the Dominican Republic and schools in Jamaica, contributed to international relief efforts in Haiti and the Philippines, donated to a local drug rehabilitation center, built a well for a Mexican village with no running water, and established a unique partnership with Vitamin Angels, a non-profit that helps new mothers and children under five gain access to essential vitamins and minerals. Donations from that partnership have helped save over 100,000 children in 2015 alone.
About Jusuru International
Jusuru International was launched out of the science behind Liquid BioCell, a new generation of nutraceuticals for joints, skin, and cellular health. Backed by 37 clinical studies, 7 US and international patents, and numerous industry awards, Liquid BioCell has been making its mark in the multi-billion dollar anti-aging industry. With over 20 years of R&D expertise, their laboratories have been providing quality custom manufacturing services to the dietary supplement industry since 1994, and meet the most stringent quality standards governing the production of nutraceutical and pharmaceutical products.
Their facility, occupying over 150,000 square feet, is a cGMP compliant facility following the current good manufacturing practices set forth by the US Food and Drug Administration. It is certified by three 3rd party auditors, the Natural Products Association, NSF and NSF for Sport ®, and holds a drug manufacturing license issued by the State of California Food and Drug Branch.
About Direct Selling Association
The Direct Selling Association (DSA) is the national trade association for companies that offer entrepreneurial opportunities to independent sellers to market and sell products and services, typically outside of a fixed retail establishment.
More than 18 million Americans are involved in direct selling in every state, congressional district, and community in the United States. In 2014, direct selling generated more than $34 billion in retail sales. The cornerstone of the Association's commitment to ethical business practices and consumer service is its Code of Ethics. Every member company pledges to abide by the Code's standards and procedures as a condition of admission and continuing membership in the Association.