Total Life Changes Participates as Ambassador Sponsor Of ANMP 2016 Event
June 1, 2016
By Nicole Dunkley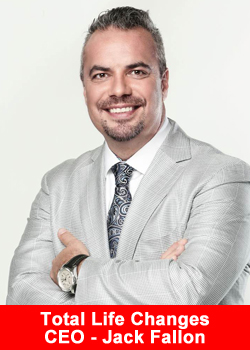 Guest speakers, trainers, coaches and attendees from around the world will travel to the InterContinental Hotel in Dallas, Texas for the 12th Annual International Convention for Network Marketing Professionals on June 2-5, 2016.
Total Life Changes is proud to announce its participation as an Ambassador Sponsor for this year's event. TLC will be the sole sponsor of the Thursday Night VIP Reception Meal as well as the Saturday Success Lunch.
"We're proud to support this year's ANMP event and it's a great opportunity for some of our most inspiring and successful IBOs to share their knowledge of the industry. I'm proud to say that we have three guest speakers from Total Life Changes participating in this year's event.
Darryl Drake is recognized as not only a terrific coach and mentor, but one of the most successful network marketers and top earners under 30 years old. He has an incredible stage presence and wisdom far beyond his years. I'm also very excited for all of the attendees to witness the #1 Female Network Marketer of 2015, Ms. Stormy Wellington in action.
She has a passion and spirit for this industry that is truly electric. And I think Ana Cantera will provide some very insightful information for building International teams. She is also a very young entrepreneur with documented success in the short amount of time she has been a part of Total Life Changes, already recognized as a 6-figure earner," says TLC founder and CEO, Jack Fallon.
Stormy Wellington was recently presented with the TLC Visionary Award in New Orleans for her commitment and her crusade to helping 1,000 families earn a six-figure income. She has helped over thirty families earn at least $50,000 in their first year as a TLC Independent Business Owner and several others have earned six-figure incomes.
"I believe as a leader we have to continue to grow and serve! The more we go and grow the more we get! Never stop serving! Never stop growing! Some people fail to realize that growth and being in the right environment is just as important as the effort we put into accomplishing our goals. As a matter of fact, it is imperative to accomplish the end result. I am honored and excited to be a part of this year's 2016 ANMP event. Thank you for creating such a place where industry leaders can connect," expresses TLC's Ambassador, Stormy Wellington.
Darryl Drake was introduced to network marketing at the age of eighteen. He was eager, enthusiastic and surrounded by successful family members, which was his formula for success. Now in his late twenties he has found a place he can call home with Total Life Changes.
He gives thanks to Stormy Wellington for bringing him to this opportunity with Total Life Changes. He is thankful to Jack Fallon for having this vision of helping families across the globe to improve and maintain their health with affordable products and an opportunity to earn an income by building a home-based business.
Ana Cantera is TLC's youngest female Global Director. Her spirit lights up the ballrooms and the content of her presentations are captivating thousands of guests each week in and outside of the United States. Ana expresses the importance of every distributor using the products first and having their own testimony in order to build a customer base.
"It is so important to use as many of the products as you can afford right as you are launching your business. It's an investment in yourself and in your business; because your friends, your family and anyone on social media can track your results. You will become your own marketing tool. You will have your own success story and this will attract customers. From there, we just teach duplication of following up with customers and sorting out which of them may be interested in joining our team and helping others improve their health, and restore their finances, even if it's as little as $250 a week on a part-time basis, that's $1,000 a month. For so many people, that is life-changing income," adds Ana Cantera.
The 12th Annual ANMP 2016 event brings guests and speakers from hundreds of companies and countries around the world for over thirty hours of world-class education. Attendees can expect to hear from many of the industry's top keynote speakers and trainers as wells as special panels that will provide a profound, comprehensive perspective on the important business skills, mentality, attitudes, and the fundamentals that are so unique to Network Marketing. Click HERE for more information on this year's Annual International Convention for Network Marketing Professionals.
About Total Life Changes
Total Life Changes® offers an amazing line of health and beauty products along with a great business opportunity. Founder and CEO Jack Fallon created TLC over 16 years ago with a single product: Iaso® NutraBurst. We have continued to grow the Iaso® brand of products like our popular Iaso® Tea. Our hybrid binary system allows IBOs of TLC to be compensated quickly for introducing new reps to our products and business opportunity. We are dedicated to providing the greatest opportunity for you to feel healthier and flourish financially. Join us and thousands of others who have already started making Total Life Changes.