WorldVentures Reveals New Features In Nxt-ID SmartCard
June 1, 2016
By Nicole Dunkley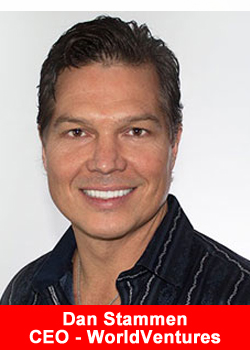 WorldVentures, a privately held leading direct seller of vacation and entertainment club memberships, recently revealed some of the user interface (UI) features for the new SmartCard in development with Connecticut-based Nxt-ID, Inc. The SmartCard's UI is being customized with features that include:
Ease of touch controls

Convenience of multiple notification and alert methods

Connectivity to enable the performance of certain services between a SmartCard and a connected device or mobile application

Various power-saving states to optimize battery longevity and simply user interaction

An inactive locked state
The SmartCard, customized exclusively by Nxt-ID for WorldVentures DreamTrips Members, currently numbered at over 500,000 worldwide and growing, is intended to allow Members to:
Load up to 10 records (credit cards, loyalty cards, identity cards, and other data); additional records may be stored on WorldVentures's DreamTrips mobile app and interchanged with the records on the SmartCard at the election of a Member

Use as a payment method in the same way as a credit card, where accepted

Earn points at select restaurants worldwide that can be used towards DreamTrips vacations

Engage and interact socially with other DreamTrips Members worldwide through its communication features
Beta cards are currently in testing. It is expected that the SmartCards will be made available to the entire DreamTrips membership later this year. The strategic alliance with Nxt-ID supports WorldVentures's mission to help its Independent Representatives and DreamTrips Members get more fun, freedom and fulfillment in their lives.
In this high-tech, hyper-connected world, we are enabling people to use technology in a more powerful and compelling way, said Wayne Nugent, WorldVentures Founder and Chief Visionary Officer.
And our Independent Representatives will be able to bring this exciting new innovation to travelers all over the world, making their experiences richer, safer, and more engaging and rewarding.
WorldVentures fosters an environment where independent-minded entrepreneurs can build their own businesses, set their own direction and make a living…living! We're very excited to see this new UI development, said Dan Stammen, WorldVentures Chief Executive Officer.
Our collaboration with the Nxt-ID executive and technology teams not only sets WorldVentures apart in the direct selling industry, but will allow us to develop the most technologically advanced human networking interactions through new products while continuously enhancing our current product set.
WorldVentures introduced the initial concept at its UNITED annual conference Jan. 15-17, 2016 in Orlando, Fla. This year marks our company's 10th anniversary, muses Nugent, and as we enter into the next decade this is merely the first step in our alliance with Nxt-ID to use our direct marketing model to bring exciting innovations, business opportunities and one-of-a-kind experiences to our Members worldwide.
Other UI developments are expected to be released in the coming weeks.
About WorldVentures
WorldVentures Marketing, LLC, a privately held company based in Plano, Tex., is a global travel club that sells memberships providing a diverse set of lifestyle products and experiences. The company uses the direct sales model to go to market with active Representatives and Members in 29 countries.