Zija Natural Health Revolution Ambassador JoAnne McMahon
June 14, 2016
By Nicole Dunkley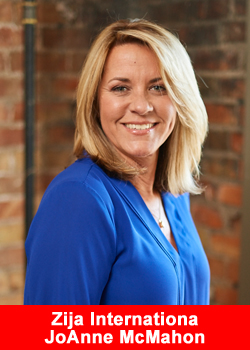 Zija International recently launched their Natural Health Revolution Ambassador program. The company has been focusing on the timely importance of embracing the Natural Health Revolution—an encouragement to naturally nourish, naturally improve our performance, and naturally restore the body.
Zija chose a solid group of individuals and Distributors who truly embody the company's Life Unlimited culture and are uplifting representations of the Natural Health Revolution.
These ambassadors, who will serve in this role for up to 1 year, have received specialized training and will be holding meetings together in pairs in various markets across the country—promoting the importance of the Natural Health Revolution.
Hear from JoAnne McMahon in her own words on why the Natural Health Revolution is so important and how Zija International is helping her live Life Unlimited:
"I was asked to take a look at the Zija Core Nutritionals products from a friend. I had already been taking vitamins and was really starting to take my health and wellness more seriously. After seeing the results that other consumers were having, we decided to get started with a Diamond System because we had so many people that we believed this product would help. We then booked a trip to the corporate office and really became excited to start a new adventure with Zija International.
The Natural Health Revolution is such a powerful statement to me. I love to be a part of a movement with vision. The word revolution is extremely exciting, too. It's about change or to be in favor of a new system. The Natural Health Revolution is a way for those that are interested in changing the way they take care of themselves, to have a platform that anyone can use. Our products are natural and this is something that you can be proud to share with family and friends.
When I was asked to be a Natural Health Revolution Ambassador, I was honored. I see my role in this movement as someone that has experience in networking and has the ability to adapt very quickly to change. I also have an open mind and can help people through challenges they may be facing in both their professional and private lives.
What sets me apart from other Distributors is if you are new to the industry, it is my experience. If you have been in the industry of networking for a while, it is how new I am to social media. I have never taken a selfie or videoed myself training. I do use Facebook and Twitter and love Periscope, however, here's some big news: to grow, you have to step out of your comfort zone and share with the world what you are up to. Social media is an easy way to share your story and I will be using the various platforms to share Zija and the Natural Health Revolution with the world.
What I see in the future and what we are already experiencing with the Natural Health Revolution is the excitement and the way people are responding to joining us on the journey. This movement is life changing. We are taking care of the 4 pillars of truly living a Life Unlimited. Those pillars are nutrition, active lifestyle, financial and time freedom and personal development.
Life Unlimited is a great motto for Zija International because by us using the Core Nutritionals and Améo Essential Oils together, we have our health back. We are able to do more simply because we have real energy to do it. We like to host home parties and travel and I love to coach and train new Distributors. With the tools and training that Zija provides and the turnkey system to place an order, you really do start to realize that you can share Zija anywhere at anytime."
ABOUT ZIJA INTERNATIONAL
Zija International, a privately-held and privately-funded business founded by Kenneth E. Brailsford and led by Ryan Palmer, develops natural health, wellness, and beauty products. The company operates in more than 50 countries worldwide, pioneering the #NaturalHealthRevolution to help individuals achieve Life Unlimited.
Zija has seen consistent growth every year since it was founded over 9 years ago and has received several awards, including and being named the Fastest-Growing Company in Utah by Utah Business Magazine. It has also been recognized on fastest-growing and top-revenue lists by Inc. Magazine, Direct Selling News and Utah Valley Magazine, and has received industry-specific MarComm, American Business (Stevies), and Davey Awards.
With corporate offices located in Lehi and more than 4 million sq. ft. of state-of-the-art warehouse, shipping and manufacturing facilities located in Utah, United States, Zija International employs more than 200 individuals and has the capacity to grow to more than two billion dollars in annual sales.