Zija's Natural Health Revolution Ambassador Chris Moore
June 3, 2016
By Nicole Dunkley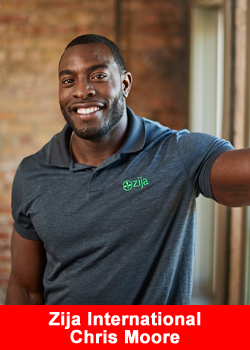 Zija International recently launched their Natural Health Revolution Ambassador program.
The company has been focusing on the timely importance of embracing the Natural Health Revolution—an encouragement to naturally nourish, naturally improve our performance, and naturally restore the body.
Zija chose a solid group of individuals and Distributors who truly embody the company's Life Unlimited culture and are uplifting representations of the Natural Health Revolution. These ambassadors, who will serve in this role for up to 1 year, have received specialized training and will be holding meetings together in pairs in various markets across the country—promoting the importance of the Natural Health Revolution.
Hear from Chris Moore in his own words on why the Natural Health Revolution is so important and how Zija International is helping him live Life Unlimited:
"What initially drew me to Zija was Joel McNinch's credibility. To be honest, I had no interest in a product-based company as I had only previously participated in service-based companies. But the quality of Zija's products is ultimately what convinced me to build a business, seeing the positive effects of the products were a complete game changer.
The nutritional famine that the world is in has created an absolute need for a Natural Health Revolution—the implementation of better health needs to happen and the movement means a lot to me. One of the things that this country needs the most is better nutrition. To be able to spread the Natural Health Revolution message with Zija standing behind me is incredible, it is a mandatory message that needs to be spread.
Before I officially became a Natural Health Revolution Ambassador, I had already felt that I was one. I was already out there, spreading the Zija message and the importance of nutrition. I've always been a huge believer, from the second I heard what Zija stood for: health and nutrition, an active lifestyle, personal development, time and financial freedom, and an overall Life Unlimited. It's what I have been preaching day in and day out and formally becoming a Natural Health Revolution Ambassador was just the icing on the cake.
By surrounding myself with those that are not only super successful in the company, but those who are successful in the network marketing industry, has really helped me find success as a Zija Distributor. I constantly want to develop myself as a person and I have an incredibly active lifestyle outside of Zija.
My wife and I have a full-time business that we run with our partner, and we five children that keep us busy. It's a blessing to have a spouse that is supportive not only mentally but also in the day-to-day aspects of growing my Zija business. I completely involve my family in Zija and they involve Zija in their lives by using the products every single day.
Zija and its products have given me a testimony I wouldn't otherwise have because of the positive effects that their products have had on my body. As a disabled Iraq War veteran and after years spent as an athlete playing basketball in the United States Air Force, I know first hand what wear and tear looks like on the body, even at a young age. Because of it, I know the importance of proper nutrition and the necessity of the Natural Health Revolution. My belief in Zija has grown further as I've seen the spectrum of my team members ranging from weight-loss and overall health seekers to professional athletes of various sports, experience positive and transformative results.
In my future with Zija I see overall growth in all areas, particularly in my health, wealth, and knowledge. Zija has already done a major deal in teaching my family, friends, and the people closest to me about health. After seeing the positive impact Zija has had on my family and friends, it's going to be amazing to see the influence it will have on a larger scale. This business is amazing because I can do what I need to do when I need to do it, especially when it comes to my family. I can take care of my family the way they deserve to be taken care of—and that is truly living Life Unlimited."
ABOUT ZIJA INTERNATIONAL
Zija International, a privately-held and privately-funded business founded by Kenneth E. Brailsford and led by Ryan Palmer, develops natural health, wellness, and beauty products. The company operates in more than 50 countries worldwide, pioneering the #NaturalHealthRevolution to help individuals achieve Life Unlimited.
Zija has seen consistent growth every year since it was founded over 9 years ago and has received several awards, including and being named the Fastest-Growing Company in Utah by Utah Business Magazine. It has also been recognized on fastest-growing and top-revenue lists by Inc. Magazine, Direct Selling News and Utah Valley Magazine, and has received industry-specific MarComm, American Business (Stevies), and Davey Awards.
With corporate offices located in Lehi and more than 4 million sq. ft. of state-of-the-art warehouse, shipping and manufacturing facilities located in Utah, United States, Zija International employs more than 200 individuals and has the capacity to grow to more than two billion dollars in annual sales.