Zija's Natural Health Revolution Ambassadors Brandon And Jessica Hayes
June 28, 2016
By Nicole Dunkley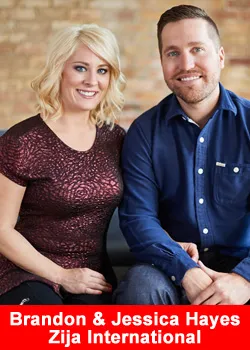 Zija International recently launched their Natural Health Revolution Ambassador program. The company has been focusing on the timely importance of embracing the Natural Health Revolution—an encouragement to naturally nourish, naturally improve our performance, and naturally restore the body.
Zija chose a solid group of individuals and Distributors who truly embody the company's Life Unlimited culture and are uplifting representations of the Natural Health Revolution.
These ambassadors, who will serve in this role for up to 1 year, have received specialized training and will be holding meetings together in pairs in various markets across the country—promoting the importance of the Natural Health Revolution.
Hear from Brandon and Jessica Hayes in their own words on why the Natural Health Revolution is so important and how Zija International is helping them live Life Unlimited:
"The Natural Health Revolution has been born out of necessity. It is absolutely imperative at this point. It's ridiculous that we even have to say 'Natural Health Revolution' because to us, it's similar to having an 'Oxygen Revolution' or a 'Water Revolution.
It seems laughable, but trust me there's nothing funny about it. Natural health is something that should come organically, but it doesn't, and that's why we're here to bridge the gap with the Natural Health Revolution. We have an opportunity with Zija to go and help people with two of their greatest needs: their health and their financial freedom. It's a privilege to go out there and share something so important to everyone and to impact their lives in such a positive way.
When all the pieces come together like Zija Founder, Ken Brailsford; Harvard-trained scientist, Dr. Plant; motivated corporate leaders; and the nutrition of Moringa Oleifera it becomes a perfect storm. It would be imprudent of us to not take advantage of an opportunity like this.
Many people can claim that they are just as passionate as we are and I guess one could argue that in cases like this, it can be somewhat subjective. But, these are not mere babblings from arrogance or ignorance. These are deep convictions stemming from irrefutable logic.
Regardless of one's opinion, facts are facts and documentation beats conversation. We can boldly, unapologetically ask anyone to join us on this journey with Zija because we know the end of the story. And the end of the story is: WE WIN. PERIOD. Every single time. This is not a 'leap of faith.' This is not 'maybe.' This is not 'we'll see.' This is intentional. This is calculated. This is on purpose.
We have found the place to plant our flag at Zija International. Our heels are dug in. Our family has the lifestyle they deserve. We're now going out and fighting for the freedom of others. We've been able to help multiple people create a full-time income inside of our team to walk away from the corporate world themselves and win for their family.
We will continue churning out top earners each year like clockwork because of the solid foundation and infrastructure we have. We are time, health, and financial freedom fighters! The flag that we fight under is Zija Nation and our battle cry is Life Unlimited.
Life Unlimited is simply removing the limits and living the way we choose to. We have been fortunate enough to set ourselves up financially and we have the Zija products we need to be healthy—we truly have the ability to live Life Unlimited.
We call ourselves the Freedom Couple because we truly believe in living freely. There are so many types of freedoms—physical freedom, mental freedom, spiritual freedom, emotional freedom—and so many people aren't free. We recognize and appreciate that we live in a politically free country, but so many of us are slaves to the media, slaves to the boss, slaves to a job, slaves to the drive-thru, or slaves to medication.
We identified that we didn't want to be apart of the dependence culture and wanted to TRULY be free in every aspect of our lives. We wanted time, money, and health—and all of them equally. Life Unlimited for us has been attaining that for ourselves, but to also share it with others.
Our mentors taught us 2 valuable lessons: 1) never forget where you came from and 2) always pay it forward. What matters most is people. How we impact and influence others is our truest legacy. Once we began achieving freedom in our own lives, we felt that it was our moral obligation to help others achieve the same. They can do that with Zija and the Natural Health Revolution."
ABOUT ZIJA INTERNATIONAL
Zija International, a privately-held and privately-funded business founded by Kenneth E. Brailsford and led by Ryan Palmer, develops natural health, wellness, and beauty products. The company operates in more than 50 countries worldwide, pioneering the #NaturalHealthRevolution to help individuals achieve Life Unlimited.
Zija has seen consistent growth every year since it was founded over 9 years ago and has received several awards, including and being named the Fastest-Growing Company in Utah by Utah Business Magazine. It has also been recognized on fastest-growing and top-revenue lists by Inc. Magazine, Direct Selling News and Utah Valley Magazine, and has received industry-specific MarComm, American Business (Stevies), and Davey Awards.
With corporate offices located in Lehi and more than 4 million sq. ft. of state-of-the-art warehouse, shipping and manufacturing facilities located in Utah, United States, Zija International employs more than 200 individuals and has the capacity to grow to more than two billion dollars in annual sales.