4Life Classified As Triple A Opportunity
July 6, 2016
By Team Business For Home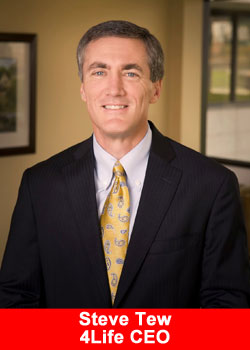 4Life is classified as Triple A (AAA+) opportunity based on key figures such as revenue, momentum, Alexa ratings, poll results, input from direct selling professionals, top earners and Head Office visits.
Business For Home recommends 4Life. There is high certainty that the net benefit is substantial for a (new) representative.
In 1998, 4Life Founders David and Bianca Lisonbee launched the company's flagship immune system support product, 4Life Transfer Factor.
As the first network marketing company to do so, 4Life's leading group of doctors, scientists, and researchers continue to advance immune system science with innovations in product formulation, production standards, delivery methods, and more.
4Life runs its own manufacturing facility and oversees each step of the manufacturing process. This includes, but is not limited to, batching, blending, encapsulating, and packaging.
Many of 4Life products undergo hundreds of analytical tests before being released for distribution. Extensive testing ensures that each specification is evaluated and reported to maintain quality throughout a product's lifecycle.
To certify each 4Life Transfer Factor product, 4Life spent over one million dollars on state-of-the-art laboratory equipment to create one of the most advanced analytical labs in the direct selling industry.

The company's research and pursuit of patent protection demonstrate the company's long-term commitment to exclusivity and stability. 4Life holds four U.S. patents and 32 international patents—with dozens more pending.
Today, people in more than 50 countries enjoy the immune system support of 4Life products.
The company has achieved in 2015 $321 Million in annual sales.
4Life World Headquarters in Sandy, Utah – USA

About the Business For Home Ranking:
In our database we have around 1,000 direct selling companies from all over the world.
We have classified 650 companies with an AAA+, AA+, A+ or B grade.
In a couple of weeks the results will be visible together with more data in the (Free) Business For Home app, available both for Android as iOS. Therefore we recommend to download the app below.
The Business For Home grade definition:
AAA+

Business For Home recommends the company. There is high certainty that the net benefit is substantial for a distributor.
AA+

Business For Home recommends the opportunity. There is high certainty that the net benefit is moderate or there is moderate certainty that the net benefit is moderate to substantial for an distributor.
A+

Business For Home recommends selectively offering based on professional judgment. There is at least moderate certainty that the net benefit is small for a distributor.
B

Business For Home concludes that the current information about the company is insufficient to assess the balance of benefits. Information is lacking, of poor quality, or conflicting, and the balance of benefits cannot be determined.


About 4Life
Since 1998, 4Life has brought the best quality products available to support your immune system and overall health. We are committed to ongoing innovation and scientific discovery, with products to help you lead a healthy life.
4Life product formulations are developed through research and a commitment to the utmost quality and efficacy. The Certified 4Life Transfer Factor guarantee ensures the identity, purity, strength, and composition of every 4Life Transfer Factor product that you consume.
The company's in-house Research and Development team includes doctors and scientists who keep 4Life on the cutting edge of scientific advancement. Additionally, our Health Sciences Advisory Board (HSAB) assists in the development of new products and helps further research into 4Life Transfer Factor Science. For more information please visit www.4life.com