5 Star Signals Out Of Business
July 23, 2016
By Team Business For Home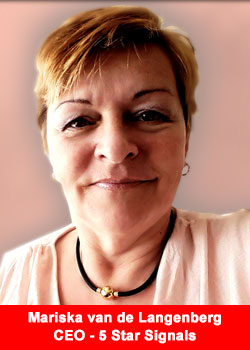 5 Star Signals – a B classified company by Business For Home – provided Forex Education for newbies and seasoned traders, as well as Passive Forex, managed accounts, with a direct selling compansation plan.
The company was headed by co-founder and CEO Mariska van de Langenberg and Dean Black.
B Classified means Business For Home concludes that the current information about the company is insufficient to assess the balance of benefits. Information is lacking, of poor quality, or conflicting, and the balance of benefits cannot be determined.
Dean Black was the 5 Star Signals head analyst and Mariska van de Langenberg claims over $180,000 in commissions owed to 5 Star Signals affiliates is lost by Dean Black:
Mariska van de Langenberg:
In the past months over $180k in commissions have been generated and all of it has been used to add to the BlueMoon accounts…nothing is left, it is all gone.

Dean also took commissions generated on the news strategies to fund the BlueMoon Account, resulting in lack of funds to pay our trading partner. These amounts are included in the $180k.
I feel bad for the people who have trusted me and invested on our accounts that Dean has blown. He may be a brilliant analyst, the trading psychology when trading other people's money is one he doesn't seem to master, only in theory.
My supporting him has reached a point where I can no longer continue this support. Blown accounts several times, and even though what he has projected to happen in the markets in the very near future has already started happening, enough people have been damaged by now, this HAS to stop right here and right now.
I have no choice but to stop exposure. Refusal to communicate is definitely a point to draw the line. Ignoring agreements made and not acting like you've told members you would, that is unacceptable.
Volume trading in order to build cash for compensation was nice in theory, in reality it has failed. This is that point of no return. Both companies in both Netherlands and Ireland will be dissolved. I wish I could compensate all of you, I truly wish.
According to the 5 star Signals website:
Mariska van de Langenberg, with over 25 years in international Corporate management and over 5 years in network marketing, truly believes that people are capable of so much more than they give themselves credit for. She also believes everyone can take control of their circumstances and their financial destiny. With the highest integrity she believed in starting a company that would change lives in a way this world hasn't seen before.
The main reason for the existence of this company was the best interest of people as so many have been hurt in their attempts to improve their circumstances.