Dennis Nowak – LavyLites – Achieves $80,000 Per Month
July 26, 2016
By Team Business For Home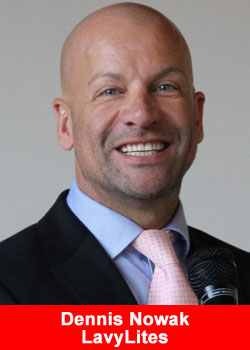 LavyLites, the network marketing company from Hungary, founded by CEO Tibor Jakabovics, with annual sales of about $40 million is expanding to Japan, India, Russia, and the USA.
Since German network marketing professional Dennis Nowak started at Lavylites in May 2014, his distributor network has grown to 30,000+ partners, focused on the distribution of the products. Nowak and his team are generating approx. 40% of the total annual sales.
Dennis Nowak's monthly income has grown to an estimated $75,000 to $85,000 with accumulated income amounting to more than $1million.
For the third year running, LavyLites, is growing continuously and already generates a turnover of $4 million per month, in only 5 countries.
The Russian market has been opened. In autumn India and Japan will follow and early 2017 the USA. Lavylites plans to achieve a turnover of $100 million in 2017.
Ted Nuyten had to honor to speak with Dennis Nowak.
Dennis, why are you and Lavylite rocking the Direct Selling industry?
That is easy to explain, Lavylites is not merely bringing new products to the market, Lavylites is creating a totally new market. Cosmetic products of a new generation.
Water specialist, Dr. Masaru Emoto, is probably widely known, for proving that water has a memory. Lavylites have managed to develop an information medium which can transmit 3000 bioelectrical oscillations, or complex energy patterns, to the cell and into the cell.
Natural substances from medicinal plants, minerals and colloidal metals are used. We spray (or use creams) onto the outside, the skin. After abt. 30 seconds the information has reached the cell.
Self-healing power is activated immediately and the cell starts regenerating. Seeing that our cells have a memory and know exactly what they require, they can select what they need for optimized functioning, from this buffet of information. I am firmly convinced that Lavylites will revolutionize gigantic markets, such as cosmetics and nutritional supplements.
Nourishment of the cell will undergo a fundament change:
This even goes as far as the cells remembering what your original hair color was, and start distributing melanin so that your hair can revert to its original color again. This is no joke, with our products white-haired people become dark-haired again. The same applies to hair loss; our shampoo has proven that hair can grow again in areas where there no longer was any!!! This happens to all the cells in the body – total regeneration! Hence no anti-aging but total re-aging instead. We can even improve diopters within minutes.
Our products are unique and exclusive worldwide, therefore they cannot be copied. Following the "Coca Cola principle" we can open production facilities anywhere in the world within 3 months. We do not need any plantations or agriculture for our products. The owner, a renowned medical scientist, successfully managed to absorb the primal cell information of plants, medicinal plants and minerals etc.
We experience incredible wow-effects. Humans, animals and even plants react to our products. Best of all however are our loyal customers. In 22 years of MLM I have never experienced this before. At Lavylites we have a proven incredible repeat order rate of 70 to 80 percent per week.
We simply work with our products in our living rooms, we organize meetings with groups of people and train our business partners in quality seminars. A unique feature of this training is also the 90 day training program developed by myself, with which new partners receive fully automated online training for 90 days, to qualify as MLM Rockstars.
A further highlight is our hybrid marketing plan: 58% net pay-out, 10% binary commission, matching bonus, profit-sharing for leaders and a starter bonus von 58%. We will shortly be offering futuristic products.
LavyLites Founders
About Lavylites
We have developed our complex, herb-based cosmetics to be able to offer products that are attractive and interesting for both men and women in everyday use.
Lavylites never settles for anything than the best, which is why in the production of its creations it makes efforts to comply with the highest quality criteria: it creates premium cosmetics from selected materials, so we can offer what we believe is the best for you and your loved ones.
For more information please visit www.lavylites.com