Interview With Garrett And Sylvia McGrath – EvolvHealth
July 29, 2016
By Team Business For Home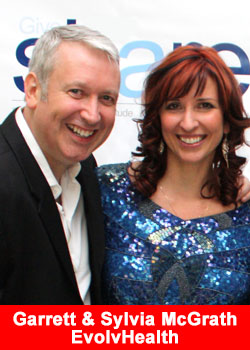 Garrett and Sylvia McGrath are highly-respected servant leaders within the network marketing and direct sales profession. Both Garrett and Sylvia are actively-building distributors and top earners with the EvolvHealth™ Hope Movement.
They are globally-recognized Ambassadors within the network marketing profession. Garrett recently achieved the Ambassadors of Network Marketing 2016 Hall of Fame, and was named in the Top 40 VIPs in the entire profession, a list which includes such top trusted advisors, servant leaders, consultants, authors, experts and advocates as Eric Worre, Robert Kiyosaki, Richard B. Brooke, Art Jonak, Gary Vaynerchuk, Darren Hardy, and Paul Zane Pilzer.
In 2011, Garrett McGrath was elected to the Board, and in 2012 as the President, of the Association of Network Marketing Professionals (ANMP.com), the international professional association which promotes unity, professionalism and education for all members of the Network Marketing community – distributors, company owners, executives, supporters and advocates alike. Garrett currently serves as ANMP President and Chairman of the Board. The ANMP celebrated its 12th Annual International Convention in June 2016.
The McGraths have written and been featured in various publications, magazines, podcasts, radio interviews, videos and books, such as Networking Times, The Four Year Career, The Relaunch Show, Business For Home, The Greatest Networkers in the World, The Home-Based Business Radio Show, Millionaires Unlimited: Working at Home, Success Guide: The 8-Step Proven Plan for Creating Financial Freedom and more.
With a combined 42 years of top-flight business experience, this power couple is highly respected and influential within the Direct Sales, Leadership Training, Personal Development, and Network Marketing profession globally.
We recently learned that since March 2016, the McGraths' teams' efforts have now donated over 2.5 million servings of Evolv HOPE Blend™ which provides 100% of the USRDA nutrient requirements to undernourished children.
Ted Nuyten had the honor to interview the McGraths about this rewarding milestone:
Garrett and Sylvia, how were you able to donate millions of nutritional servings through your network marketing business, in just a few months?
"Within our team, we've now officially donated over 2.5 million servings of nutrition to undernourished children since March of this year, and the number keeps growing every day," said Garrett McGrath. "This is because Evolv now automatically donates one-for-one, serving-for-serving, for the kids on our behalf through the Buy 1 Nourish 2™ Giving Program.
It's the same concept as TOMS® Shoes, but instead of giving a pair of shoes, it's servings of ultra-premium whole food nutrition for children. The concept is called Social Entrepreneurship. The numbers are tracked through our websites and the new Evolv Hope Tracker app; you can literally see the numbers growing live, hour by hour, a real-time tool to track our giving impact. And the more we give, the more we earn."
"The response has been overwhelming; it's like a 'ripple effect' of good," said Sylvia McGrath. "When you are helping 'the least of these' you are doing God's work, so we're extremely grateful for the opportunity to serve and make a difference in many lives, alongside thousands of our team members and customers.
Two and a half million servings, is a good start, but it's not enough! Over 6 million children die every year from malnutrition, and children need to be nourished DAILY to thrive. Our goal is to donate enough one-for-one servings to eradicate childhood malnutrition within the next five years."
At The EvolvHealth Event in Dallas, USA
How has this new "One-for-One Giving" impacted your team, and your network marketing business?
"It's a real game-changer," said Sylvia. "Our team has always been about giving back and Servant Leadership, so it's a natural fit with our values. We LOVE working with people who have a heart for helping others. And now the Evolv HOPE Movement has given us all a bigger way to serve, donate and do what we love – automatically!
Everything we're already doing to grow our business now also gives back to needy children, directly, One-for-One. That's a Win-Win-Win. What's not to love about that? And it makes it easy and fun sharing the message with others – you just feel mission-driven to share it."
"Ted, our business growth has been impacted in a huge way. We'll double our business volume by the end of 2016, and we believe we'll double again in 2017," said Garrett. "This company has completely evolved into a brand new, fast-moving, strong opportunity for the network marketing pro who wants to make a robust, full-time income. We believe Evolv will be a $100-million-dollar a year company by the end of the year."
Doubling the volume is impressive. Has Evolv also brought out new products? Or did you open new markets? Where is the growth coming from?
Garrett said: "Yes! We've never seen, in over 25 years, such high consumer demand as there is for Evolv's new 'Reboot' program. And people stay on the Reboot products: we've got over 72% retention after 10 months, which is completely unprecedented! We feel very blessed and grateful to have such a high Customer-to-Distributor ratio, in-demand products, and customer retention. All of this growth has come domestically, from the USA and Canada; and yes, there are plans for international expansion, too."
Sylvia added: "And – this is important – we're built to LAST. Here's why: in our team an average of 8 new Customers per every 1 new Distributor are getting started each week. Those are numbers from just the last four weeks! This speaks to the huge demand for the Reboot products. In fact, over 67% of our volume is from purely Customer orders – people who were never ever distributors. This high customer ratio and retention means that as a company and organization, we're already naturally right in-step with new compliance guidelines."
Tell me a little about the first-to-market "Evolv Reboot Leptin" program I'm hearing about. Is there a website where people can find out more?
To see how the program works, visit our Evolv distributor website at www.HopeMovement.info, or go to www.garrettandsylvia.com and click the "GIVING BACK" link.
Who is using the Reboot and part of the Hope Movement? Anyone we know?
"Yes! We're very excited that a number of new high-profile supporters have recently partnered with EvolvHealth™ and the HOPE Movement, such as:
The Biggest Loser™ Season 8 Champion Danny Cahill, recently featured on the front page of the New York Times; Danny started the Evolv Reboot health program July 5th, and in just 14 days, he lost over 15 pounds, and counting!
The former President of Mexico, Vicente Fox and wife Marta have just partnered with EvolvHealth and the HOPE Movement to help fight childhood malnutrition by becoming our distribution partner in Mexico to get the HOPE Blend product to children in need. In fact, President and Mrs. Fox will be hosting us and over 100 of the top EvolvHealth distributors at their hacienda, hotel, and the Centro Fox Museum and Presidential Library, in August 2016 – Sylvia, Liam and I are super excited for this trip with our team!
In addition, hundreds of world-class athletes, doctors, and other health professionals, who know the value of the EvolvHealth products and the new cutting-edge science and research that supports the Reboot Leptin product line.
Network Marketing superstars, such as Brig and Lita Hart who are globally renowned network marketing professionals and 9-figure career earners; Sam and Linda Caster, Founders of MannaRelief; and many more have joined the Evolv Health HOPE Movement."
Former President Vicente Fox – Mexico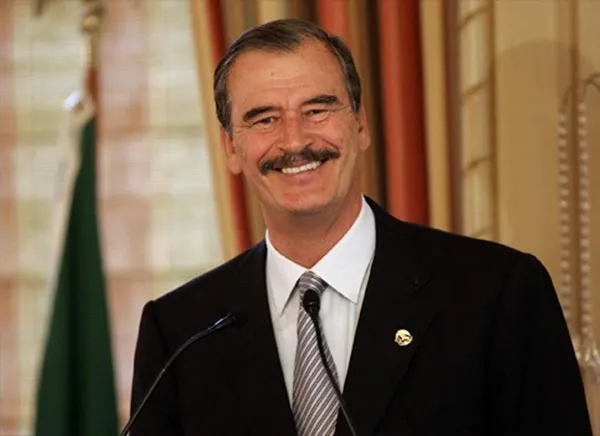 Why did people like The Biggest Loser Champion Danny Cahill choose this program? How is it different?
"Because this is a truly disruptive breakthrough in human health and fat loss. It is NOT just the same-old, same-old; there are 1,000 diet products out there, and these other products all create the same unhappy cycle that people go through, year after year, because of the diet industry," said Garrett.
"Before, like most people, I always thought weight loss was a fairly simple equation: Calories-in-vs-Calories-out. As it turns out, the research shows that's just not true!" said Sylvia. "The US Dept of Health National Institutes of Health (NIH) did a now-famous study of participants on The Biggest Loser™ TV show, and tested their metabolic rates before the show, after the show, and then 6 years later—so it was over the course of six years.
Danny Cahill before and after
And what the NIH found is that the very diet program that people are encouraged to go on, sets up their bodies for automatic failure. The study validated that calorie-restriction and exercise altered their metabolic rates and sensitivity to the fat-burning hormone called Leptin. So when the participants just started eating normally again, the fat started coming back with a vengeance! This study validated, and is a microcosm of, what's going on in the lives of millions of people across America."
"As it turns out, the biggest factor in weight-loss and weight rebound is a little-known hormone called Leptin," said Garrett. "Based on the research, EvolvHealth has produced the first whole food product that addresses the core issue of why people can't burn fat efficiently. And we've got the ONLY program that addresses the Leptin problem – and does it safely, simply and scientifically – with a program-in-a-box that tastes wonderful, and it WORKS!
And everyone can afford it. Not only does it cost you NO extra money, for most people, it actually saves you money. It replaces your unhealthy meals and drinks and provides a program and education that shifts the mechanisms in your body from being a sugar-burning metabolism to a fat-burning metabolism. It's incredible – you can read all about the study in the front-page article in the New York Times (May 2, 2016).
"Danny Cahill, the Biggest Loser™ show champion featured in the article said this about his experience:
'When the New York Times article came out, I felt validated — and afraid. Would my body fight me every day for the rest of my life? My low-calorie diet and hours of exercise were hurting me! There is a scientific basis for obesity and rebound weight gain. I turned down every single paid endorsement in favor of a REAL solution, the Evolv Reboot.
Within 3 days of doing my Evolv Reboot, my cravings were GONE. That's when I knew I had my hands on something special. I've lost 15 pounds in my first two weeks. With the Reboot, it is not only possible for me to Reboot my fat-burning metabolism, I could also help nourish children in need while I did it. All at once I could see that my purpose, my passion, and my experiences — from my successes to well-publicized defeats — could be used to help others. My wife Darci and I are excited… it's a real answer to our prayers.'
"Now that we give one-for-one with this new Social Entrepreneurship model, it changes everything. It's a different conversation when you're sharing with people. It's unprecedented in allowing you to talk with everyone. And it's authentic success. For a Social Entrepreneur, wealth is not the objective; it's simply the by-product of succeeding in your mission. You're sharing something that's solving a problem for the consumer, which is also solving the problem for a child."
Any last words?
"Doesn't it just feel good, when you do something good for yourself – and it automatically does good for someone else?" asked Sylvia. "At whatever level you are involved – a Customer, a Member or a Builder – you are literally helping save lives every day – simply by doing what you're already doing anyways! Everyone eats meal-replacement bars or on-the-go snacks.
It's as simple as you eating (or sharing) an Evolv LifeBar – which by the way contains zero sugar, zero artificial; it's all-natural and organic with healthy-fats like coconut, and high-fiber from quinoa, flax and chia, with fermented whole food vitamins and minerals, with immune-enhancing Aloe vera and Acemannan. Reboots and maintains a fat-burning metabolism and supports immunity and digestion. And it tastes gorgeous. Again, what's not to love about that?"
"We are taking 'servant leadership' through social entrepreneurship to a whole new level. We've been growing every week through the summer. Last week we grew over 25%," said Garrett. "So why not get involved and impact the world for good, for generations to come – now is the perfect time! Be part of the solution, help us eradicate childhood malnutrition, and make history! Lead the charge together with us. Be one of the top leaders who will have a global social impact and create the first $100-million-dollar year and beyond."
Contact details Garrett and Sylvia McGrath:
www.garrettandsylvia.com (personal site)
www.hopemovement.info (Evolv site)