Mary Kay Awards $1.3M In Grants To Women's Cancer Research
July 13, 2016
By Nicole Dunkley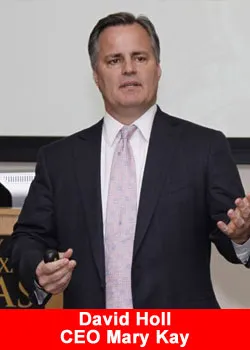 The Mary Kay Foundation recently announced the recipients of its annual cancer research grants, which the foundation has awarded since its inception 20 years ago.
Research of cancers affecting women is one of two causes championed by The Mary Kay Foundation, the other being prevention and awareness of domestic violence.
To improve knowledge of the disease, which is the second leading cause of death in women, Mary Kay awards $100,000 grants to top medical schools and research facilities across the country.
"The Mary Kay Foundation is proud to support these promising researchers who are working on critical discoveries that will impact lives for the better," said Michael Lunceford, Mary Kay Senior Vice President of Public Affairs and Chairman of the Mary Kay Foundation board. Lunceford also noted that, while the program focuses on cancers affecting women, the resulting research helps to fight all types of cancer.
Grant recipients are selected by the foundation's Scientific Review Committee, a group of medical scientists and doctors chaired by Jerry Shay, Ph.D., Professor and Vice Chairman of the Department of Cell Biology for The University of Texas Southwestern Medical Center at Dallas (UTSW).
This year the committee screened 58 applicants and awarded 13 grants totaling $1.3 million. To date, Mary Kay has donated $25.2 million to a wide range of cancer research.
"It's imperative in science to push the boundaries of cancer research in a pursuit to develop early diagnostic tools and new treatments," said Shay. "With continued support through grants like these from The Mary Kay Foundation, scientists are afforded the critical opportunity for discovery."
Mary Kay recently honored Shay's longtime leadership of its review process with a $250,000 gift to UTSW, establishing a Distinguished Professorship in Women's Cancer Research. Along with his collaborator, Dr. Woodring Wright, Shay is renowned for his own research on the relationship between aging and cancer. His roles at UTSW also include Distinguished Teaching Professor and Program Director of the Cancer Biology Graduate Program.
About Mary Kay
Irresistible products. Positive community impact. Rewarding opportunity. For more than 50 years, Mary Kay has offered it all.
With 3.5 million Mary Kay Independent Beauty Consultants and $4 billion in global annual sales, Mary Kay is a top beauty brand and direct seller in more than 35 markets around the world. Discover what there is to love about Mary Kay by connecting with a Mary Kay Independent Beauty Consultant at marykay.com.