New Talk Fusion Websites Empower Business Building
July 11, 2016
By Nicole Dunkley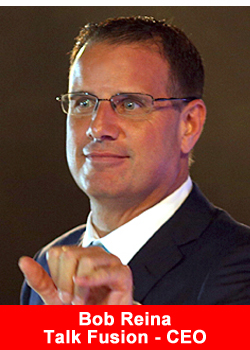 Marketing and training are two of the key ingredients for an Associate to build a successful direct marketing business. That's why Talk Fusion has launched so many new ways to help its Associates build their businesses and take their teams to new levels of success.
From freshly redesigned websites and added videos to incredible new presentations and training materials, every word, addition, and enhancement was done with one goal in mind: to drive home Talk Fusion's commitment to changing more lives than ever before.
The July 6th launch of the inspiring and reimagined TalkFusion.com offers an even better way to showcase its blend of products and opportunity—equally adored by Talk Fusion Associates worldwide. Each web page is packed with excitement, encouragement, and positivity, giving Associates a strong platform from which to give potential customers and team members a window into the dream lifestyle.
Building a successful business can be difficult, but building it through teamwork can lead to unlimited possibilities. No one understands the power and potential behind this concept better than Founder & CEO Bob Reina. More people working together for one cause—that's how you change the world. And that's why Talk Fusion has released the all-new Diamond Rush—an all-encompassing guide to recruiting new Associates and building an effective team.
"Our commitment is to the people who go out and make a difference every day," said Founder & CEO Bob Reina. "That's why I personally hosted a company-wide broadcast presentation of the Diamond Rush—I want them to learn the proven system that works and I want to see them succeed."
Top Leaders from all over the world have enjoyed the incredible results of the Diamond Rush's 4 Steps to Success. They've experienced bigger and better changes to every aspect of their lives and through duplication are now helping their team members experience it for themselves.
But that's not all Talk Fusion has in store.
Because of its mission to help more people experience the time and financial freedom and flexibility they deserve, Talk Fusion has found even more ways to share its unmatched business opportunity with the world.
Coming very soon, the new TalkFusionInstantPay.com will be unveiled, along with its focal point: a high-energy and inspirational Opportunity Presentation video hosted by Founder & CEO Bob Reina himself. This video will allow Associates to share his enthusiasm and industry experience directly with prospects and team members alike.
Available on-demand 24/7, it's the perfect presentation every time from the man who created it all. Taking it even further, this presentation will eventually be available on DVD.
"Our new Opportunity Presentation video is unlike anything you've ever seen," said Founder & CEO Bob Reina. "It's powerful, inspiring, and it's going to change millions of lives and show everyone that Talk Fusion offers a better way."
The brand-new Product Presentation and Product video also serve as great ways to demonstrate the features, functionality, and advantages of Talk Fusion's all-in-one Video Marketing Solution.
Talk Fusion is constantly growing and improving and these new resources will help Associates share its innovative products and unparalleled opportunity in order to build their businesses and take their teams to new heights. By providing even better ways to reach out to prospective and existing team members and customers, Talk Fusion has once again proven its dedication to helping people across the planet reach their dreams and create better lives for themselves and others.
ABOUT TALK FUSION
Home of the world's first all-in-one Video Marketing Solution, Talk Fusion is dedicated to helping businesses stand out from the competition, increase sales and profits, and keep their customers coming back. Talk Fusion offers dynamic ways to make marketing more engaging, memorable, and persuasive with video.
Talk Fusion's innovative products are marketed person-to-person by Independent Associates in more than 140 countries. 30 day Free Trials of the all-in-one Video Marketing Solution are available to anyone who wishes to try before they buy—no credit card required.
Established in 2007 by Founder & CEO Bob Reina, Talk Fusion fosters a strong commitment to Giving Back to family, friends, communities, and animal charities across the world. Learn more or sign up for a 30 day Free Trial at www.JoinTalkFusion.com and "Like" Talk Fusion at www.facebook.com/TalkFusion.
DISCLAIMER
The incomes and lifestyles depicted in this article are not representative of the results achieved by most Talk Fusion Independent Associates. Talk Fusion does not guarantee your financial success. For actual results achieved by all Talk Fusion Independent Associates, see Talk Fusion's Income Disclosure Statement at www.talkfusion.com.