Talk Fusion Instant Pay Website Showcases New Opportunity Presentation
July 21, 2016
By Nicole Dunkley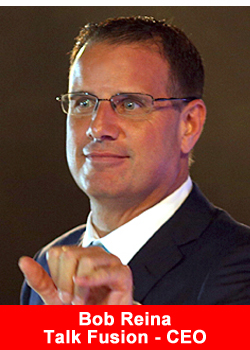 With a continued commitment to its Associates' success, Talk Fusion has released a powerful new website: TalkFusionInstantPay.com. And this vibrant new site is the perfect way to showcase the brand-new Opportunity Presentation video hosted by the man who created it all: Founder & CEO Bob Reina.
In less than 10 minutes, he explains the business, shares the philosophy behind Instant Pay, and exemplifies the potential of Talk Fusion's life-changing opportunity.
"My goal with this video was simple: create the perfect Opportunity Presentation for Associates to share," Bob said. "I know beyond the shadow of a doubt we did exactly what we set out to do."
The video features high-energy music and incredible lifestyle and incentives that are sparking excitement across the globe. Now Associates can harness the industry experience, enthusiasm, and vision of Founder & CEO Bob Reina and put it to work for their businesses.
The new self-replicated Instant Pay site is revolutionizing the way Associates share the Talk Fusion business opportunity. With the video available 24/7 on demand (and coming soon to DVD), Associates can send prospects to watch, learn, and get inspired directly by the CEO any time day or night.
"We've always known Talk Fusion offers a better way," said VP of Training & Development Allison Roberts. "This incredible new presentation gives Associates the power to share the opportunity in a way that makes sense, gets prospects excited, and generates results. The new Instant Pay site hit over 1.7 million views in the first 48 hours alone so we know it's working!"
As a leader in video communications, no one understands the importance of communication better than Talk Fusion. And with Associates in more than 140 countries (and growing), it's the reason why this incredible new Opportunity Presentation video is also available in multiple languages with more on the way.
New Associates and Top Leaders alike can take full advantage of the endless possibilities available to them through powerful new business-building resources like the Opportunity Presentation video, TalkFusionInstantPay.com, and more. By sharing Talk Fusion's unmatched video marketing products and incredible business opportunity, anyone with the passion and dedication to succeed can pursue time and financial freedom and live their dreams.
ABOUT TALK FUSION
Home of the world's first all-in-one Video Marketing Solution, Talk Fusion is dedicated to helping businesses stand out from the competition, increase sales and profits, and keep their customers coming back. Talk Fusion offers dynamic ways to make marketing more engaging, memorable, and persuasive with video.
Talk Fusion's innovative products are marketed person-to-person by Independent Associates in more than 140 countries. 30 day Free Trials of the all-in-one Video Marketing Solution are available to anyone who wishes to try before they buy—no credit card required—at www.JoinTalkFusion.com.
Established in 2007 by Founder & CEO Bob Reina, Talk Fusion fosters a strong commitment to Giving Back to family, friends, communities, and animal charities across the world. Learn more at www.TalkFusion.com and "Like" Talk Fusion at www.facebook.com/TalkFusion
DISCLAIMER
The incomes and lifestyles depicted in this article are not representative of the results achieved by most Talk Fusion Independent Associates. Talk Fusion does not guarantee your financial success. For actual results achieved by all Talk Fusion Independent Associates, see Talk Fusion's Income Disclosure Statement at www.talkfusion.com.