Toyomi Wada DubLi Network Achieves Vice President Rank
July 5, 2016
By Team Business For Home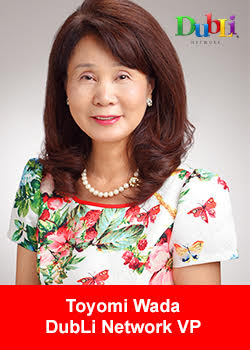 First DubLi Network Vice President in Japan
DubLi Network, the world's largest e-commerce network marketing company through its online Cash Back shopping platform, DubLi.com, announced today that Toyomi Wada has reached the noteworthy rank of Vice President.
Ms. Wada is DubLi Network's first Vice President in Japan, an important market for DubLi Network, one that experienced significant growth over recent quarters.
Ted Nuyten had the opportunity to interview DubLi Network´s newest Vice President, Toyomi Wada.
BFH: Ms. Wada, we congratulate you on becoming DubLi Network's First Vice President in Japan. How long have you been part of DubLi Network? Which skills have you found to be most useful on your path to achieving the Vice President status?
I've been part of DubLi Network for two years. Network marketing is an incredible business model, one that I value highly and see great potential. I believe there are many skills and attributes one may use towards finding success in this industry, an industry available to people from all walks of life.
For me, on my journey towards reaching VP, the most valuable skills were maintaining a laser-like focus, positively influencing each person with whom I work and a relentless effort towards achieving my goal. I couldn't have done this without the continuous effort and hard work of my team and my beautiful daughter, who selflessly helped me to reach my goal.
I also had the unending support from my upline, particularly SVP, Blanka Williams. Blanka embraces the skill set of success and her dedication to our team.
BFH: How has Network Marketing changed your life? And, what is the biggest benefit to running a DubLi Network business?
Network marketing has given me the freedom of time and an opportunity to create a life by design, my design. It pushes me to do better and to be better every day. It creates a freedom for me to be accountable and responsible for my own actions and, thus, my own results.
As Bruce Lee said: If you really love life, don't waste time, for time is what a life is made of. I certainly do not want to waste my time and am grateful to be part of the DubLi Network business which, in my opinion, is the most exceptional business model I have ever seen.
BFH: To achieve the rank of Vice President, you have obviously developed a successful team and created future leaders. What is the best advice you can give them to help follow in your footsteps?
When you undertake an extended and determined effort towards truly being worthy of happiness and making your dreams come true, you will stumble along the way. Welcome this as a great challenge and adventure – the endless journey towards being the very best you can be. Just decide that giving up is not an option!
BFH: Japan is recognized for its advances in technology. How do you see the digital economy affecting the direct selling industry now and in the future?
The Internet is already affecting the direct sales industry significantly. Service-based businesses have had to become more competitive due to the ease of online research and "the Google effect." Alternatively, product-based companies are finding their products being sold on eBay and other classified sites for less than half the price, from distributors who are no longer involved and are left with remaining inventory.
In any type of sales, relationships are king. As such, direct sales will continue to flourish, however it will be companies that harness the power of the Internet in their favor, that will succeed.
BFH: What are your goals for your DubLi Network business and how will you achieve them?
I'm the ultimate dreamer; I love helping people and then celebrating their success. My next step is, of course, SVP, and I'm committed to expanding and participating in growing the largest market share for DubLi Network in Japan. Like anything else in life, we get to decide for ourselves for what we are aiming and then create our own strategy for execution. I have an incredible team around me who is willing to work hard towards reaching our collective goals and dreams. With that, we have everything it takes to succeed.
About DubLi Network
DubLi Network is a sophisticated, e-commerce network marketing company based on Cash Back shopping and travel, and the global leader in providing e-business network marketing opportunities to Independent Business Associates in almost 100 countries. DubLi Network offers Business Associates an opportunity to earn an income by marketing its online Cash Back shopping site, DubLi.com. For more information, visit www.dublinetwork.com.
DubLi.com is a global leader in online Cash Back shopping. DubLi.com is emerging as a leading e-commerce platform offered through network marketing, currently serving customers in more than 120 countries. Shoppers can browse through different categories, which feature international and local brands, travel, coupons, discounts and vouchers.
DubLi.com has adapted its multilingual and multi-regional e-commerce platform to serve multiple international markets in local language and currency to strengthen its global e-commerce presence and encourage sales in its countries of operation. Depending on the market, DubLi.com features the world's most popular brands including Amazon.in, Walmart, Nike, Hotels.com and Expedia.
Since its founding by Michael Hansen in 2003, DubLi has offered entrepreneurs the opportunity to create their own distributor organization by joining the direct sales company, DubLi Network. The global network of independent distributors generates traffic and drives sales to DubLi.com.
DubLi.com and DubLi Network are subsidiaries of Ominto, Inc. and are headquartered in Boca Raton, Florida.