USA Jury Finds ZeekRewards Founder Paul Burks Guilty Of Fraud
July 22, 2016
By Team Business For Home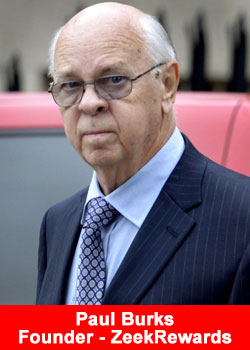 A federal jury found Paul Burks, the founder of ZeekRewards, guilty Thursday on all four charges in a $939 million Ponzi scheme.
It was one of the largest Ponzi schemes in U.S. history, according to federal regulatory officials and prosecutors. The companies, which debuted in January 2011, were shut down and their assets frozen in August 2012.
The jury needed less than three hours to come back with its verdicts, according to Lia Bantavani, a spokeswoman for the U.S. Attorney's Office for the Western District of North Carolina. Burks, 67, of Lexington was found guilty of wire and mail-fraud conspiracy, wire fraud, mail fraud, and tax-fraud conspiracy.
"For nearly two years, Burks used deceit and dishonesty to engineer an extensive Ponzi scheme that amassed millions of dollars from thousands of victims, many in the Western District," U.S. Attorney Jill Westmoreland Rose said in a statement.
"This massive scam is one of the largest in breadth and scope ever prosecuted by this office. I want to remind the public to steer clear of 'get rich' schemes," Rose said. Burks' attorneys could not be reached for immediate comment.
The U.S. attorney's office said Burks will remain free on bond while a sentencing date is set. It is possible Burks could spend the rest of his life in prison.
The wire and mail-fraud conspiracy charge, the mail-fraud charge and the wire-fraud charge each carry a maximum prison term of 20 years and a $250,000 fine. The tax-fraud conspiracy charge carries a maximum prison term of five years and a $250,000 fine.
Penny auctions
In August 2012, the U.S. Securities and Exchange Commission accused Rex Venture Group LLC, Zeekler, ZeekRewards and Burks of raising more than $800 million through unregistered securities, also known as penny auctions, and another $96 million in subscription fees.
The companies raised the money from at least 2.2 million customers, including more than 230,000 in the United States, with 47,000 of those in North Carolina.
Prosecutors claimed that Burks received at least $10.1 million from the scheme. Burks reached a consent settlement with the SEC in August 2012 in which he did not admit wrongdoing or that his companies operated as a Ponzi scheme. However, he agreed to pay a $4 million penalty.
Burks was indicted on Oct. 24, 2014. U.S. attorneys said Burks and company officials "falsely represented that Zeek was generating massive retail profits" in which participants were supposedly qualified to gain half of the profits of each day.
"Contrary to the conspirators' claims, the true revenue from the scheme did not come from the penny auction's 'massive profits,' " the attorneys said.
"Instead, approximately 98 percent of all incoming funds came from victim-investors, which were then used to make Ponzi-style payments to earlier victim investors," they said.
The court-appointed receiver for ZeekRewards, Kenneth Bell, said he has recovered $351.1 million and disbursed $263.4 million to victims. He is pursuing civil cases against domestic and foreign "net winners" — those people who won more money than they spent on the securities.
"The jury's verdict gives a measure of justice to the hundreds of thousands of victims of Mr. Burks and ZeekRewards," Bell said. "It will greatly help our ongoing litigation against more than 9,000 people who still hold more than $200 million that rightly belongs to the victims."
Prosecutors said ZeekRewards officials conducted weekly conference and leadership calls to "make false representations about the profit and income of Zeek."
Burks' attorneys presented what they said was evidence that ZeekRewards was not a Ponzi scheme, and that Burks did not "ever intend to mislead ZeekRewards affiliates." They claimed the companies "paid what he promised" to participants, saying they paid $499.5 million to participants before the shutdown.
Prosecutors accused Burks of not keeping accurate or timely records of the securities and said he just made up daily winning totals. Shortly before the trial began, Burks provided handwritten records that U.S. attorneys said were not valid.
Burks' attorneys claimed he received bad advice from experts, such as how to provide Internal Revenue Service 1099 forms to participants. That form shows interest-income payments. Prosecutors claimed Burks failed to file corporate tax returns or to make corporate tax payments for his companies.
They said Burks issued fraudulent IRS Forms 1099s for the 2011 tax season, causing participants to file inaccurate tax returns containing phantom income. Two former ZeekRewards executives, Dawn de Brantes and her stepson Dan Olivares, testified about Burks' state of mind when he operated the companies.
In February 2014, U.S. attorneys reached plea agreements with de Brantes and Olivares. De Brantes pleaded guilty to investment-fraud conspiracy and to tax-fraud conspiracy. She faces up to 10 years in prison and up to a $500,000 fine.
Daniel Olivares pleaded guilty to an investment-fraud conspiracy charge. He faces up to five years in prison and up to a $250,000 fine. Their sentencing was delayed until the conclusion of Burks' trial.
Scheme crumbles
The ZeekRewards scheme began to crumble in the summer of 2012 when banks, including BB&T Corp. and NewBridge Bancorp, began questioning company officials about concerns with its operations. BB&T requested ZeekRewards pull its money from the bank.
Soon after, the companies' income began to fall short of the money needed to pay participants.
Still, by March 2012, Rex Venture Group, or RVG, had become NewBridge's largest depositor.
In April 2012, NewBridge began "a formal investigation into whether Burks was using RVG to operate an illegal business" and asked Burks to remove his accounts on April 17, 2012. Yet, NewBridge continued to process RVG's incoming deposits and outgoing "commission" checks until June 2012.
Bell, the receiver, accused NewBridge of "allowing RVG to conduct its fraudulent acts past the time when NewBridge knew or should have known that RVG and its insiders were using RVG to perpetuate a fraud." NewBridge denied the allegations and any liability related to Bell's claims.
However, in one of its last actions as a publicly traded company, NewBridge agreed in March to pay $5 million toward a $10 million settlement. The other $5 million came from Zurich American Insurance Co. on behalf of NewBridge.
Source: www.journalnow.com