Zinzino Expands Sales To All EU Countries
July 8, 2016
By Nicole Dunkley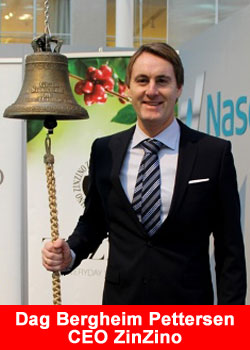 Zinzino AB (publ), one of the world's leading direct sales companies within health, will be expanding sales of the full range of Zinzino Health p roducts to all EU countries from 5 July 2016.
"Geographic expansion is one of the main objectives we need to achieve for continued strong growth, and is therefore a natural, but big step for us. We are, of course, very happy and proud to present this initiative, in which we see a huge potential," says Dag Bergheim Pettersen, CEO of Zinzino AB.
Zinzino has been experiencing a strong growth in Northern Europe for a number of years, with a focus on Scandinavia and the Baltic countries.
Following the launch of Zinzino in Germany, Europe's largest market for direct sales, during the first quarter of 2016, it is now time to continue the geographic expansion.
"We have prepared a model of how we want to launch Zinzino in new markets, and we can see that the launch in Germany has gone well.
We have already achieved strong sales and can see that Zinzino's products and business concept have been well received by customers and partners. This means that we now feel more secure in offering our products to all EU countries," continues Dag Bergheim Pettersen.
Expanding across the whole of the EU is part of Zinzino's strategy for achieving the vision it is working towards achieving one million customers by year 2020.
"More customers and increased sales mean we have better opportunities for continuing research and development of our products. We will therefore be continuing to expand and strive for high growth so that we will always be able to focus on delivering the highest quality to our customers," concludes Dag Bergheim Pettersen.
About Zinzino
Zinzino AB is a leading direct sales company, represented in Sweden, Norway, Denmark, Finland, Iceland, Lithuania, Latvia, Estonia, Poland, the Netherlands and the USA. Zinzino markets and sells products in two product lines: Zinzino Health, with a focus on long-term health and Zinzino Coffee, comprising espresso machines, coffee, tea and accessories.
We offer customers products centered around quality, the environment, health and a feeling of everyday luxury. Our values are characterized by high quality, proximity to the customer and a focus on active product development.
The products are marketed through direct selling. Zinzino owns the Norwegian knowledge-based company BioActive Foods AS and the research and production unit Faun Pharma AS. Since 2005, Zinzino is the general agent for the Franco-Belgian coffeehouse Rombouts & Malongo. Today, the Zinzino Group has some 90 employees. The company has its head office in Gothenburg, Sweden, an office and a factory in Oslo, Norway, an office in Florida, USA, and and office in Helsinki, Finland.