Chad and Nattida Chong Achieve Top Rank At WOR(l)D GN
August 2, 2016
By Team Business For Home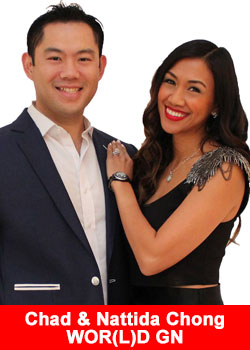 Chad & Nattida Chong reach top ranks at WOR(l)D Global Network in record time.
Chad and Nattida Chong became the highest rank in the USA by reaching the rank of Presidential Platinum in WOR(l)D Global Network – a Triple AAA+ classified company by Business For Home.
Chad & Nattida stated:
"Finally there's a company out there that people can be excited to build with again! Being that it's a category creator and a first mover's company, we are ecstatic to partner with WOR(l)D Global Network. After all, Bill Gates has said that, 'The secret of success in business is detecting where the world will go and get there first.'
WOR(l)D GN definitely knows where the market place is headed. Their products are sexy and their compensation plan is ultra lucrative, and both are going to revolutionize this industry. After 5 years, 195 countries are opened for business, yet the majority is untapped. Now that is what we call opportunity.
And wait until you meet the CEO. We have never met a CEO with more vision. But it's not his vision that impresses us the most. It's his dedicated action in making his vision a reality."
Inspired by CEO & President, Fabio Galdi's vision and brilliance in execution, Chad & Nattida are confident and thrilled to pioneer WOR(l)D GN's global expansion, focusing first in the USA.
"The coming of Chad and Nattida is additional proof of our unbelievable momentum" Fabio Galdi, CEO of WOR(l)D said. "In the past months we've worked with them closely to understand the potential of the markets where they have huge influence on, and we are thrilled of the enormous potential of this couple. WOR(l)D is becoming a stronger family, day after day."
Working directly with their sponsors, parents, and Global Master Distributors Nat & Chanida Puranaputra, disruption in the industry is inevitable. Ultimately, the apple doesn't fall far from the tree.
"Mark our words. You will start seeing an over pouring of names from WOR(l)D Global Network on the Top 100 Income Earners list within the next few years. Why? Because this company truly has competitive advantage and technological leadership," Chad & Nattida explain.
Chad & Nattida Chong and the corporate team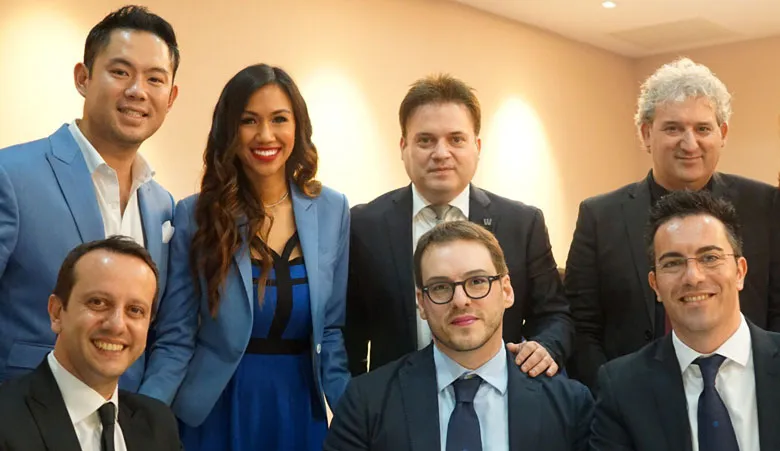 About Chad & Nattida
Chad & Nattida Chong were still in their twenties when they earned their first million dollars in network marketing. As a Power Couple, they bring about a unique and new perspective to the industry. They are the best examples of passion, determination, and perseverance.
Today in their thirties, they have huge organizations all throughout USA, Asia, Europe, and Australia. With over 33 years of combined experience in relationship marketing, international expansion is just one of their expertise. Chad & Nattida are team players and all-star trainers that have successfully broke hundreds of ranked professionals as well as helped thousands of individuals around the world break into their success.
They have been featured in multiple publications internationally, and have used their platform to train thousands at various events.
Parents to 3 beautiful children, Chad & Nattida chose Network Marketing as their vehicle to financial and time freedom. Because of this industry, they have the ability to spend infinite time with their family while securing their future, and realizing their long life dream of opening their own orphanage. Knowing firsthand the benefits that network marketing has to offer, their passion is to help others do the same.
With their strong work ethic and concrete understanding of the business, they continue to help their leaders and organization on a very personal level to help create systems, structure, and tailored plans that would bring their business partners to a whole new level. It is clear that they have a passion to help others, and with their unique, fun, and natural way of training, anyone can excel beyond their imagination.
For more information of Chad & Nattida, please go to www.ChadNattida.com
About WOR(l)D GN
WOR(l)D also referred to as World GN is a global multi million dollar company that offers services in the telecommunications, renewable energy, technology and mobile Telecommunication. With 15 offices Worldwide, along with their numerous awards won recently, WOR(l)D is recognized as one of the most prestigious opportunities in the industry.
Its current headquarters is in the United States with its major offices in the United States, Singapore, India, China, Russia, Ireland, Dubai, Tunisia, Brazil, Turkey, Thailand, Vietnam, Columbia, Paraguay, and Hong Kong. For more information please visit www.worldgn.com