Dr. Scott A. Johnson Joins The Zija Product Advisory Council
August 18, 2016
By Nicole Dunkley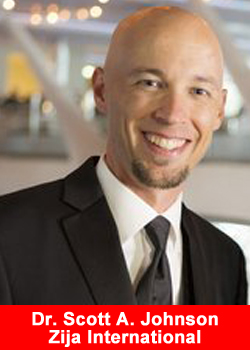 Zija International appoints Dr. Scott A. Johnson as the latest specialist to join the Zija Product Advisory Council.
Dr. Johnson is the bestselling author of eight books and more than 250 articles featured in online and print publications. He has a doctorate in naturopathy, is a board certified alternative medical practitioner (AMP), a Certified Clinical Master Aromatherapist (CCMA), and Certified Professional Coach (CPC).
His evidence-based approach to natural healing and experience conducting medical research make him one of the world's leading experts on the therapeutic application of essential oils. Dr. Johnson pioneered evidence-based essential oil therapy, which combines the art of ancient healing with modern science to maximize the benefits of essential oils.
One of his research focuses is the safety of essential oils, and he has published internationally on the subject. He is an acclaimed international speaker and has delivered keynote presentations across North America, Europe, and Asia.
Dr. Johnson draws on his wealth of experience and diverse educational background as he travels the globe to share the secrets of natural healing with those who seek greater wellness.
The Zija Product Advisory Council is a team of experienced and expert professionals that work to help maintain the highest quality sourcing, validation and delivery practices for Zija's high-caliber products.
Because the company continues to grow at a rapid rate, Zija decided to create a team dedicated to this priority so we can continue to confidently ensure that all of our customers and Distributors consume only products that have been produced at first-rate farms and facilities.
The Zija Product Advisory Council now consists of seven individuals who are highly specialized in their fields and have years of distinguished experience. Other members include: Dr. Joshua Plant, Pierre Franchomme, Dr. Doug Nelson, Karen Jensen, Dr. Monica Marcu, Dr. Daniel Pénoël, Dr. Aimon Kopera, and Dr. William Setzer.
ABOUT ZIJA INTERNATIONAL
Zija International, a privately-held and privately-funded business founded by Kenneth E. Brailsford and led by Ryan Palmer, develops natural health, wellness, and beauty products. The company operates in more than 50 countries worldwide, pioneering the #NaturalHealthRevolution to help individuals achieve Life Unlimited.
Zija has seen consistent growth every year since it was founded over 9 years ago and has received several awards, including and being named the Fastest-Growing Company in Utah by Utah Business Magazine. It has also been recognized on fastest-growing and top-revenue lists by Inc. Magazine, Direct Selling News and Utah Valley Magazine, and has received industry-specific MarComm, American Business (Stevies), and Davey Awards.
With corporate offices located in Lehi and more than 4 million sq. ft. of state-of-the-art warehouse, shipping and manufacturing facilities located in Utah, United States, Zija International employs more than 200 individuals and has the capacity to grow to more than two billion dollars in annual sales.