Nat And Chanida Puranaputra – WOR(l)D GN's Achieves Double President Millionaire
August 13, 2016
By Team Business For Home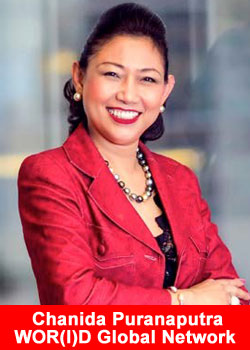 Since Nat and Chanida Puranaputra have decided to partner with WOR(l)D Global Network – a Triple AAA+ classified opportunity by Business For Home – as Global Master Distributors, they have taken the industry by storm.
With their in-depth experience of global expansion, they have broken record after record, skyrocketing to the rank of President Millionaire in a matter of weeks.
Just 2 months later, they are now WOR(l)D GN's very first Double President Millionaire, currently the highest rank in the company. A Double President Millionaire does a minimum of $2 Million USD in total sales in a given week.
With merely 3 and a half months of partnering with WOR(l)D GN, they have already broke 1 new President Millionaire, 3 President Platinums, and 60+ Diamonds and above.
The company stated,
Nat and Chanida have brought in their style and continue to show how they live and breathe this profession. Their ability to inspire and create culture, and their capability to always be focused on the main objective, is further confirmation of their in-depth experience.

It took only a few months for Nat and Chanida to enter into the history of WOR(l)D.
About Nat and Chanida Puranaputra
Multi-level marketing experts Nat and Chanida Puranaputra might go down as the "biggest power couple" in network marketing history. With over 40 years of combined experience, they have trained and produced more MLM millionaires, multimillionaires and industry leaders than anyone before them.
Originally from Thailand, the couple spent a majority of the past two decades in the direct sales and network marketing arena, occupying top leadership positions in several premiere companies.
During that time, not only did they pioneer new and effective marketing strategies for their business, speak in more than 25 countries and had their training resources translated into over 10 languages, they also strengthened and expanded the industry's presence in the Southeast Asia and ASEAN market. Countries like Thailand, Malaysia, Vietnam, Indonesia, Laos, and Korea are now flourishing in the MLM field because of their influence and expertise. They successfully hold the title of Top Income Earner, Leader of the Year, Millionaire club, all while being part of the Advisory Board – masterminding ways to take the industry to the next level.
And it's all about helping people reach their dreams.
As international recognized leaders, they have dedicated themselves to empower others to discover what they have—financial freedom and time with family, two aspects very close to their hearts.
They have provided and continue to provide the system, tools and opportunity for people to increase sales, create movement, and apply everlasting change to their businesses. Together, they work on training entrepreneurs on how to learn and utilize fundamental networking skills that will lead them to the top.
Chanida, with her charm and immaculate knowledge, has inspired thousands around the world with this approach, encouraging and challenging people to dream again. Nat captivates with passion, motivating about self-belief and the drive to win.
And they're the prime examples of not giving up on their dreams—from Thai restaurant owners in
Los Angeles, to years in the corporate world and away from their family to now multimillionaires and world-renowned leaders in the industry, Nat and Chanida Puranaputra are living their dream.
And as they continue to build their legacy, they are committed to seeing others reach their goals. Their genuine style of training will not only enlighten, but inspire transformation and belief in yourself and your dreams again. For more information about Nat and Chanida, please go to www.NatChanida.com
About WOR(l)D GN
WOR(l)D also referred to as World GN is a global multi million dollar company that offers services in the telecommunications, renewable energy, technology and mobile Telecommunication. With 15 offices Worldwide, along with their numerous awards won recently, WOR(l)D is recognized as one of the most prestigious opportunities in the industry.
Its current headquarters is in the United States with its major offices in the United States, Singapore, India, China, Russia, Ireland, Dubai, Tunisia, Brazil, Turkey, Thailand, Vietnam, Columbia, Paraguay, and Hong Kong. For more information please visit www.worldgn.com