Phanawat Lapsamphan – WOR(l)D GN Achieves President Millionaire
August 17, 2016
By Team Business For Home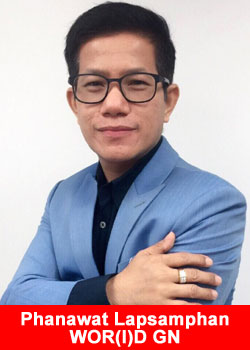 Just after 4 short months of partnering with WOR(l)D GN, – a Triple AAA+ Classified opportunity by Business For Home – Thailand based Phanawat "Shane" Lapsamphan quickly shot through the ranks and became the 11th President Millionaire, and the 2nd from Asia, in the company.
A President Millionaire does a minimum of $1 Million USD in total sales in a given week.
With 15 years of experience in the insurance business, Shane always understood the power of leverage.
However, it wasn't until he found WOR(l)D GN that he truly experienced success.
Phanawat stated:
"I credit everything to TRUST. I trust in the company and what it stands for. I trust in our CEO, Mr. Fabio Galdi and his vision. I trust in our innovative product and it's ability to reach the masses.
And most importantly, I trust in my uplines, GLOBAL Master Distributors Nat and Chanida Puranaputra. They have always believed in me and have given me the greatest opportunity for me and my partners.
Not everyone is a superstar. Even for someone like me, I can get close to 100% sign up rate. In just 2 months, I already earned 6 figures. If someone like me can see this much success, anyone else can for sure!
But it's not about me. It's about my people. And for the first time, they are truly seeing success. This is because of something much bigger than ourselves. WOR(l)D is absolutely a lifetime opportunity."
About WOR(l)D GN
WOR(l)D also referred to as World GN is a global multi million dollar company that offers services in the telecommunications, renewable energy, technology and mobile Telecommunication. With 15 offices Worldwide, along with their numerous awards won recently, WOR(l)D is recognized as one of the most prestigious opportunities in the industry.
Its current headquarters is in the United States with its major offices in the United States, Singapore, India, China, Russia, Ireland, Dubai, Tunisia, Brazil, Turkey, Thailand, Vietnam, Columbia, Paraguay, and Hong Kong. For more information please visit www.worldgn.com