Top Latino Leaders Eduardo And Sarai Flores Join Unicity
August 18, 2016
By Team Business For Home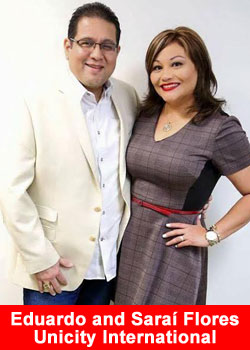 Eduardo and Sarai Flores from Dallas, Texas, are joining forces with Todd Smith at Unicity International.
This move comes after having spent almost 6 years inspiring and building an International Latino Organization surpassing 100,000 reps and retail customers.
As the Top Earner in Unicity, beyond $28 million, Todd Smith has the experience and knowledge to guide and mentor them on their new path.
After reaching multimillion dollar earnings in their 19-year career in Network Marketing, Eduardo and Sarai Flores are very excited to be involved in the Unicity Latino Movement that's being launched next month in Miami, Florida.
Several things have really impressed and inspired the couple to join Unicity.
Stewart Hughes, the owner of Unicity, drew them in when he said
"Distributors are our biggest A]asset.
They were also extremely impressed with Unicity's 25-year History, with the last 10 excelling in Asia. The company owns manufacturing facilities in several countries, including one recently acquired in Mexico, ensuring long-term operations.
16 of Unicity's products appear in the acclaimed PDR (Physician's Desk Reference). The company is currently established in 40 Markets Worldwide and are launching an unparalleled movement in Latin America.
The commitment from Unicity to protect teams and organizations inspires people like Eduardo and Sarai Flores to become a part of the movement. As Stewart Hughes said,
"We will never let you down. If you build it, we will support you."
Although they are moving on, Eduardo and Sarai still hold a place in their hearts for their previous company, which they love dearly. They say they will treasure the many unforgettable memories created there.
They especially want to thank, recognize, and applaud the hundreds and thousands of colleagues who became their family and friends. They offer their sincere gratitude and appreciation for the hard work and commitment that went into building an international organization.
"Muchas Gracias familia Internacional de Equipo Éxito Residual"
The couple are excited to achieve future growth both in their own lives and in the lives of others as they commit to reaching out and touching people worldwide through their journey with Unicity.
About Unicity International
Headquartered in Orem, Utah and driven by more than 100 years of enterprise, Unicity empowers its employees, distributors, and customers to achieve their aspirations.
Focusing on both physical health and personal development, Unicity's proven products and structured business opportunity have helped thousands of people around the world exemplify our corporate motto to Make Life Better.
Recognized as one of the Top 500 Privately-held Businesses in the United States—ranked 87th on the national level and First in the state of Utah—Unicity stands as an industry leader for both nutritional supplements and business development. For more information please visit www.unicity.com