Total Life Changes Acquires Ryte, Inc.
August 10, 2016
By Nicole Dunkley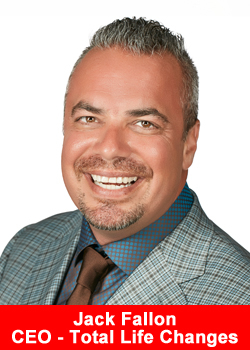 Effective August 3, 2016, Total Life Changes – aTriple AAA+ classified opportunity by Business For Home – and Ryte, Inc. entered into an agreement for TLC to acquire the control of assets and distributors of Ryte, Inc., a benefit corporation focused on the complete wellness of the individual and helping others.
TLC's founder and CEO Jack Fallon is strongly pursuing the growing demand of companies seeking assistance or attempting to find a new course in the industry. TLC has actively looked to extend its value in the worldwide arena by supporting businesses seeking assistance.
This new division in Salt Lake City will support companies like Ryte, Inc. seeking flexible considerations and support.
The founders/shareholders of Ryte, Inc., J. Riley Schaugaard, Dave Stewart and Jeff Wilson had this to say:
While our vision for Ryte wasn't fully realized, we have been actively seeking an opportunity since ceasing our business operations that would allow our products and concepts to live on.
We have been searching for a company that would truly understand what we set out to accomplish and could take our products & assets and not only continue what we started, but expand upon it.
We were introduced to the good people of Total Life Changes (TLC) a few months ago and have found that company. TLC is an organization led by people that share our values and understand the great and largely untapped potential of our products.
They have been hugely successful for many years and have recently experienced the type of growth few companies in direct sales ever reach. They provide a platform and resources that will allow our products to continue to be available and on an even broader scale.
We have personally experienced the benefits of Perk, Fuel and Rejuv, and have heard from so many that have had phenomenal results as well. We love these products and the relationships we established through this business. We are thrilled that TLC is giving them a second life
There is a natural synergy that binds companies like TLC and Ryte," stated Jack Fallon, President, CEO and founder of Total Life Changes.
"Our customers and Independent Business Owners who first share a dedication to quality products and the opportunities provided through Direct Selling, second.
I am very proud to have established the structure to help smaller companies in need who share in our ideals. I am also fortunate to have secured a strong management team to facilitate this new division."
TLC expects a seamless transition with Ryte's customers and IBO's. TLC extends its value in the worldwide arena by supporting businesses seeking assistance. If you are interested in learning more about Total Life Changes' acquisition/merger division, please call (801) 580-8808 for assistance.
About Total Life Changes
Total Life Changes® offers a diverse product portfolio of health, wellness and beauty products. President and newly named, Tea Executive Officer, Jack Fallon created TLC over 16 years ago with a single product: NutraBurst®
Since that time, TLC has continued to develop the Iaso® brand of products to include a diverse and attractive product portfolio matched with a hybrid binary system that allows IBOs of TLC to be compensated quickly for introducing new customers to our products and business opportunity. Find out why so many are saying, "It's just different over here."