Total Life Changes Announces New Acquisition/Merger Division
August 4, 2016
By Nicole Dunkley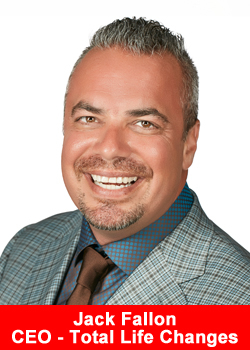 TLC's founder and CEO Jack Fallon announced a new satellite office to be resided in Salt Lake City that will support an acquisition and merger division.
Total Life Changes has been recognized as an agent of change in the Direct Selling industry by offering a unique blend of innovative products and one of the most generous compensation plans for its Independent Business Owners.
Having assumed the additional role as President of Total Life Changes, Mr. Fallon has devoted substantial time to plan for the immediate and future success of the company.
This announcement stems from the growing demand of companies seeking assistance or attempting to find a new course in the industry from a leader like Total Life Changes. TLC has actively looked to extend its value in the worldwide arena by supporting businesses seeking assistance.
This new division in Salt Lake City will support companies seeking flexible considerations and support. The facility is already dedicated to customer service support for Total Life Changes' distributors in Japan and Asia, but will expand its number of associates to accommodate this acquisition/merger division.
TLC extends its value in the worldwide arena by supporting businesses seeking assistance. If you are interested in learning more about Total Life Changes' acquisition/merger division, please call (801) 580-8808 for assistance.
About Total Life Changes
Total Life Changes® offers a diverse product portfolio of health, wellness and beauty products. President and newly named, Tea Executive Officer, Jack Fallon created TLC over 16 years ago with a single product: NutraBurst®.
Since that time, TLC has continued to develop the Iaso® brand of products to include a diverse and attractive product portfolio matched with a hybrid binary system that allows IBOs of TLC to be compensated quickly for introducing new customers to our products and business opportunity. Find out why so many are saying, "It's just different over here."