WellnessPro Appoints John Purdy As President And COO
August 19, 2016
By Team Business For Home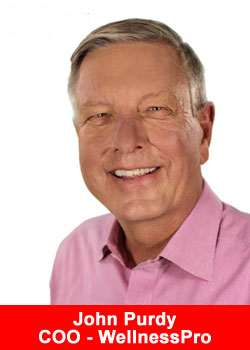 WellnessPro, Inc, leading provider of weight loss and nutritional supplements, is pleased to announce the appointment of John Purdy to the role of President and COO.
"We are thrilled to welcome John to the WellnessPro family and the executive management team. He brings an incredible array of talent, experience and integrity that aligns perfectly with our mission and values.
John will be instrumental as we continue delivering the highest quality products and building a globally recognized multi-billion dollar brand, " said Tatiana Kolpakov, WellnessPro Co-Founder.
As President and COO, Mr. Purdy will be responsible for helping the company continue its successful domestic and international expansion.
John Purdy is an accomplished executive with over 35 years of experience in the Direct Selling Business. Mr. Purdy brings to Wellness Pro a successful background in Executive Management at three of the largest and most successful Global Direct Selling companies, Amway, Herbalife, and Visalus Sciences.
Most recently Mr. Purdy held the position of President and Chief Operating Officer of Visalus Sciences leading the company through explosive growth over a 2 year period.
At Herbalife International Mr. Purdy served as an International Executive for over 13 years including residing in Tokyo and Hong Kong. He held the positions of President Herbalife Japan, Senior Vice President of International and Senior VP of Asia Pacific developing and leading International businesses around the globe.
At Amway Corporation he held successive management positions for 15 years including successful project assignments in Europe and Asia.
Mr. Purdy has been an investor in early stage companies and an advisor to Greenhouse Capital Partners, a clean tech and consumer venture firm. Mr. Purdy has also consulted to other companies inside and outside the Direct Selling Business.
Mr. Purdy is currently living in Southern California with his wife Barb and his daughter Kelly.
About WellnessPro, Inc.
Headquartered in Los Angeles, WellnessPro, Inc. is a leading provider of weight management products and nutrition throughout 11 countries. Our entrepreneurial, multi-channel distribution model and impressive product development are the hallmarks of our innovation.
Of the thousands of great products that are sold by network marketing companies, WellnessPro Balanced Nutrition (our weight management product) was chosen as one of the five best products in 2014 by the The Academy of Multi-level Marketing (TAMM). The Nuwelle-line of outstanding skin care products have won many awards throughout Europe and are now being introduced in the United States.
With top industry executives as company management and leading producers from the network marketing profession, WellnessPro is uniquely positioned to execute its mission to improve the health, wealth and quality of life of people around the world. For more information, please visit www.WellnessPro.com.