WOR(l)D Global Network Forms Joint Venture With Quality Technology Industrial
August 4, 2016
By Team Business For Home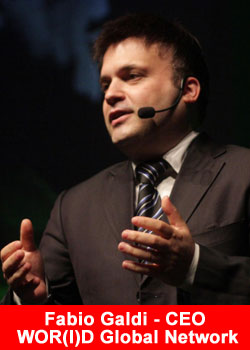 WOR(l)D Global Network – a Triple AAA+ Classified opportunity by Business For Home – has signed a joint venture with Quality Technology Industrial — a leading industrial group in China with over 10 years of manufacturing, quality control, and after-sales service in IT experience — to partner in researching, developing, and building mobile and wearable devices.
This collaboration bodes a major improvement to the entire line of products, with enhanced production capabilities, high stock availability, as well as new International Customer Care and R/D departments in Shenzhen, co-managed by QTI and WOR(l)D's own R/D department.
The joint venture will also positively impact the HELO product line, with a focus on maintaining high-stock availability worldwide and also developing the next generation of devices to further integrate communication and monitoring capabilities.
This partnership between WOR(l)D and Quality Technology Industrial Ltd has really catapulted us in the MLM Industry as giants of IT production. Already there's a promising forecast for monthly production reaching 3 million wearable devices and 1 million smartphones in 2016/2017.
"We've been discussing this move with Fabio for several months now," said Eva and Dragon Zhou, co-owners and CEOs of Quality Technology Industrial.
"It is really important for us to differentiate ourselves in the market. WOR(l)D has the vision, top management, and distribution channel to truly launch the IT revolution we had in mind. The Mobile division will greatly benefit from this injection of capital, and we can bring some important changes and improvements to the products as well, since we're starting our venture before mass production commences."
According to the CEO of WOR(l)D Global Network, Fabio Galdi,
"It's not just a partnership. This joint venture has two main goals: The first one is to enhance our capacity for production and to have a reliable partner for building amazing products with top-class features.

The second goal, which is very crucial, is the restructuring of an entire Mobile division with new capital, new engineers, new management, and new products. This will not happen in a couple of days, but it's definitely what we need in this stage of our growth-phase."
With this new funding in place, Wor(l)d management decided that now is the right time to launch its Stockist model. The Stockist is a new version of Wor(l)d's main consultant: a position that offers a unique opportunity to buy an entire range of products to be stocked locally and handed directly to the customer at the point of sale.
It allows Wor(l)d to provide an even more efficient service and generate greater income faster for the consultant, all while offering immediate and excellent customer service and satisfaction.
WOR(l)D welcomes this investment. With its prolific expansion in the Asian markets, and all the upcoming, official openings of its new offices around the world, including Colombia, Dubai, Korea, Paraguay, Thailand, and Vietnam, the timing could not have been better.
CEO, Fabio Galdi confirms that "This funding provides an essential piece to our business model: it removes all of the remaining barriers to making a sale. We have the best people in the best network, with the best products in stock, ready for immediate delivery to customers. I am confident that our joint sales and consultant incomes are going to grow rapidly over the next few months."
About WOR(l)D GN
WOR(l)D also referred to as World GN is a global multi million dollar company that offers services in the telecommunications, renewable energy, technology and mobile Telecommunication. With 15 offices Worldwide, along with their numerous awards won recently, WOR(l)D is recognized as one of the most prestigious opportunities in the industry.
Its current headquarters is in the United States with its major offices in the United States, Singapore, India, China, Russia, Ireland, Dubai, Tunisia, Brazil, Turkey, Thailand, Vietnam, Columbia, Paraguay, and Hong Kong. For more information please visit www.worldgn.com