19-Year Old Entrepreneur Saleem C. Mohammed Funding His Dreams With Total Life Changes
September 14, 2016
By Nicole Dunkley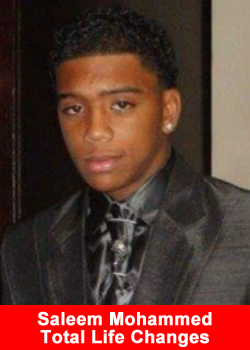 Network Marketing has become a great alternative for today´s young generation, especially those struggling financially with student loans and unfulfilling jobs.
This is the case of Saleem C. Mohammed; a young man that is funding his dreams with his Total Life Changes business TLC has not only changed his life but is opening some doors to a better future.
"I wake up daily asking myself why. I'm probably crazy, but in my mind, I truly believe I was destined for a higher purpose. Some choose the path of being taxi drivers or cashiers, but at a young age I decided that I could do anything I put my mind to", says Saleem.
Mohammed lives with his parents and siblings (two brothers and one sister) in the suburbs of Port of Spain, Trinidad. He was introduced to Total Life Changes by his mom, Executive Director Arlene Collins.
"In the past, I've been exposed to several of my mother's network marketing businesses. I've worked alongside her, but there was something different about TLC. I just wanted to join. I attended the TLC National Convention in Atlanta, 2015. At that time I was only as a binary qualified associate and I was amazed to witness how so many people could come together and act as one big family. It's definitely different here", adds Saleem.
Raised in a family with strong values, Saleem is a great example of perseverance not only for his family and friends, but for his entire community. "I came from a generous family that has the spirit to give and help others. Culturally we´ve been taught that you'll be blessed when you give back.
My mother comes from humble beginnings. She grew up with very little and wasn't able to finish school. Through her hard work and dedication, she has become a successful woman. It doesn't matter where you start, you can be successful", explains Mohammed.
The vision of Total Life Changes has always been based on helping others; through sharing high-quality products that can impact one's health and offer an opportunity to build a legacy for future generations, because young people are the ones who have big dreams. Saleems' enthusiasm and confidence is really inspiring others to also jump into new opportunities. "If I really want to, I can do it. If I give up now, I will regret it forever", he says.
Being part of a team, working together to create better lives for them and others is an incredibly appealing environment for young people to be immersed in. Now, as an Executive Director with TLC, Saleem has committed to help everyone achieve their goals and to continue working on their team development. What makes TLC attractive for younger people is not only the residual income they can obtain, but the personal growth they will experience as a result.
"Values like leadership, communication and problem solving are just a few examples. My income varies, but the experience and the people I've met along the way is priceless", adds Saleem.
When it comes to his future, Saleem says: "I'm thankful for my journey and to be a part of TLC's 30 and entrepreneurs. We're creating a movement in Trinidad. We are breaking the rules of poverty for our country and TLC is the vehicle making that happen."
In TLC, the future for the next generations of young hearts and minds definitely looks so bright.
About Total Life Changes
Total Life Changes® offers an amazing line of health and beauty products along with a great business opportunity. Founder and CEO Jack Fallon created TLC over 16 years ago with a single multivitamin product named NutraBurst®. TLC has since grown the Iaso® brand of products like the popular Iaso® Tea. The hybrid binary system allows IBOs of TLC to be compensated quickly for introducing new reps to the products and business opportunity. TLC is dedicated to providing the greatest opportunity for you to feel healthier and flourish financially. Visit Total Life Changes to find out more about the products and business opportunity.