DubLi Network Makes Waves In Japan
September 30, 2016
By Team Business For Home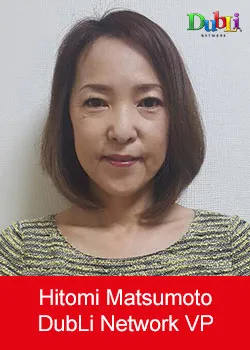 DubLi Network, the global leader in providing e-business network marketing opportunities to entrepreneurs in over 100 countries, expands its footprint in Japan where it is taking the fast-growing e-commerce market by storm.
The newest Business Associate to reach the impressive DubLi Network Vice President position, Hitomi Matsumoto, discusses her rise to success in the MLM business in Japan with Ted Nuyten.
How long have you been part of DubLi Network? What skills have been the most useful in reaching the Vice President position?
I was able to reach the Vice President position only three months after enrollment, all thanks to my exceptional team and supportive husband. To advance quickly in rank, understanding the DubLi Network business, first and foremost, was key. By always considering the team at large, and working together to do what is best collectively, the team succeeds and continues to grow and thrive.
How many years of network marketing experience do you have? What makes DubLi Network a powerful, yet simple-to-implement, network marketing company?
Having worked in the network marketing industry for 20 years, I have held many roles, including both as distributor and employee. DubLi Network lends tremendous support to its Business Associates. By providing its leaders with proper tools and encouragement, the leader is then able to replicate and build a successful team, which is not only essential but also the foundation on which this industry is built.
Reaching the Vice President position requires a successful team of future leaders. What has been key to the development of your team and what advice can you give to everyone seeking success in the direct selling industry?
DubLi Network provides an extraordinary, advantageous business model, one that supports people in their journey towards achieving their goals and dreams. In order to succeed, you must believe in yourself and find valuable leads and prospects. It really is possible to succeed and progress professionally without anyone having to sacrifice a thing!
The technology of today is rapidly advancing. How is this changing the direct selling industry in Japan and how will this affect your strategy going forward?
Network Marketing businesses that are based on the physical distribution of products in Japan are struggling. As modern technologies advance, the latest gadget will not satisfy everyone and will, therefore, no longer be a sustainable business venture. The whole principle of DubLi is that it is built on a global trend, a concept which suits the needs of everyone regardless of where in the world they live. As shopping habits develop, DubLi.com will continue to be a valuable tool that will complement online shopping.
What advice can you give to women who are interested in working full-time or just to earn some extra income as a side or part-time business?
Network marketing provides women in Japan an opportunity to make a reliable income while meeting the needs of their families or personal lives. Because network marketing distributors are independent contractors, they are able to work as part of a larger team and/or from home; it is much easier for women to become involved in the business, even without previous experience in the industry, or age being a negative factor.
About DubLi Network
DubLi Network is a sophisticated, e-commerce network marketing company based on Cash Back shopping and travel, and the global leader in providing e-business network marketing opportunities to Independent Business Associates in almost 100 countries.
DubLi Network offers Business Associates an opportunity earn an income by marketing its online Cash Back shopping portal and selling premium memberships through DubLi.com. For more information, visit www.dublinetwork.com.
DubLi.com is a global leader in online shopping and Cash Back rewards to customers worldwide. DubLi is emerging as a leading e-commerce platform offered through network marketing, currently serving customers in more than 120 countries. E-shoppers can browse through different categories, which feature international and local brands, travel, coupons, discounts and vouchers.
DubLi has adapted its multilingual and multi-regional e-commerce platform to serve 12 international markets in local language and currency to strengthen its global e-commerce presence and encourage sales in its countries of operation. Depending on the market, DubLi.com features the world's most popular brands including Amazon.in, Walmart, Nike, Hotels.com and Expedia.