Former CEO Longaberger Sued By JRJR Networks For Fraud
September 27, 2016
By Team Business For Home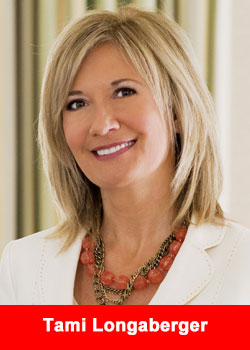 About a year after Tami Longaberger sued current Longaberger parent JRJR Networks over $1 million she loaned the company, JRJR has countered, suing Longaberger for fraud.
In the lawsuit filed Thursday in Texas, JRJR — previously known as CVSL — accuses her of failing to disclose millions of dollars in tax liabilities when JRJR Networks bought the Newark-based company in 2013.
Tami Longaberger was traveling and not available to comment Monday. However, her attorneys said the suit "lacks merit."
"(We) anticipate it will be vigorously defended," said Steven W. Tigges of Zeiger, Tigges & Little LLP.
The suit, filed in District Court of Dallas County, Texas, says that when JRJR Networks bought the Longaberger Co., it was unaware that the company had made a tax increment financing agreement with Newark on May 1, 1996, for $4.1 million.
The agreement was related to roadwork, lighting and other improvements made when Longaberger's basket-shaped headquarters building was built. The original tax agreement was revised on April 1, 2007, to $2.6 million.
Those agreements "were not disclosed by (Tami) Longaberger" at the time of the purchase, the suit says.
To date, the Longaberger Co. owes $577,660.05 to various local taxing entities under the agreement, according to the suit.
In the suit, JRJR Networks is demanding that Tami Longaberger — who resigned in May 2015 as CEO of the company her father founded — pay the liability or release JRJR Networks from its obligations to pay the tax.
The suit's allegations seem to be at odds with the parent company's comments in October 2015. At that point, Licking County Auditor Mike Smith said the company owed hundreds of thousands of dollars in back taxes, and a CVSL spokesman said that the company had stopped payment because it was challenging the property-tax valuation of the headquarters building.
Longaberger CEO and President John Rochon Jr. said Monday the tax obligation came to light when the company engaged a real-estate agent to look at options for the iconic headquarters building.
When the company found out about the tax obligations, "it was a shock," Rochon said.
"But much has come to light" since Tami Longaberger's departure, Rochon said.
"We do everything we can to save her company … then we find out her intentions were filled with malice."
Source: Colombia Dispatch