Q Sciences Listed As "Emerging Elite for 2016"
September 22, 2016
By Team Business For Home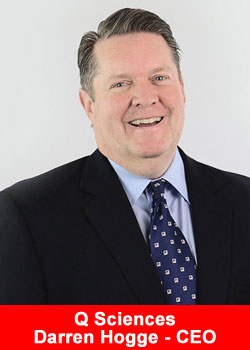 For the second year in a row, MountainWest Capital Network (MWCN) has recognized Q Sciences as an Emerging Elite for 2016, part of its annual list of the 100 Fastest Growing Companies in Utah, USA.
Rankings for the top 100 will be announced at an awards event on Oct. 18 at the Grand America Hotel in Salt Lake City, Utah.
What an amazing honor to be recognized as one of the Emerging Elite for the second year in a row by such a prestigious organization, said Daren Hogge, Founder, President, and CEO of Q Sciences. To be acknowledged this way shows what an incredible job our leaders, corporate staff, and IBOs are doing to make Q Sciences great.
Now in its fourth year of operation, Q Sciences has been acknowledged for it's exponential growth by several organizations, including Businessforhome.org, a website dedicated to direct selling facts, figures, and MLM news, as well as Pleasant Grove City, and the Direct Sales Management Association of Utah.
Utah remains one of the best economic and entrepreneurial states in the country. With its dynamic economy and long-term stability that invites strong companies, the state has an ample number of businesses that demonstrate incredible growth, said Paul Skeen, Chairman of the MWCN Utah 100 committee.
It is a pleasure to recognize each of the Utah 100 and acknowledge their success, progression and foresight.
About Q Sciences
Q Sciences is a Utah-based wellness company dedicated to its customers, Independent Business Owners, and employees. Built on a foundation of proven science, Q Sciences' mission is to improve the quality of life through its core line of wellness supplements and innovative fitness products.
More information about the company's cutting-edge products based on the most advanced science and technology is available at https://www.qsciences.com.
About MountainWest Capital Network
The MountainWest Capital Network (MWCN) is Utah's first and largest business networking organization devoted to supporting the entrepreneurial success of Utah's business owners and professionals. MountainWest Capital Network supports the free flow of information about capital formation and distribution in Utah through networking events.