Tupperware Announces Leadership Promotion, New Position
September 29, 2016
By Nicole Dunkley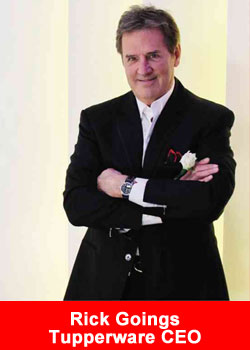 Tupperware Brands Corporation is promoting its longtime President and Chief Operating Officer, Simon Hemus, to Vice Chairman and naming Patricia Stitzel as his successor.
Stitzel is a Tupperware veteran whose promotion is in line with the company's management succession process. Since 2014, she has served as Group President, Americas, for the kitchen, home and beauty products maker.
The incoming President and COO began her Tupperware career nearly 20 years ago as part of the human resources department. Before transitioning to the Americas, she held a series of senior executive positions with Tupperware Europe.
"Tricia has done an exemplary job in every position she has held within the company," said Rick Goings, Chairman and CEO. "Most recently, she has led the Americas region to tremendous growth, leveraging the Vision 20/20 strategic initiatives she has helped design and execute."
Stitzel's promotion will go into effect Oct. 1, as Hemus takes on the newly created role of Vice Chairman. In this new capacity, Hemus will lead the company's Horizons project, a strategic plan for geographic expansion and market penetration.
"Simon has done a terrific job of improving our strategic focus at Tupperware," said Goings. "As he works on the execution of the Horizons project, Simon will continue to position the company for future growth and leave a strong legacy."
Hemus joined the company in 2005, when it acquired the direct sales divisions of Sara Lee Corp., his former employer. He was named President and COO in 2007.
About Tupperware Brands Corporation
Through an independent sales force of 3.1 million, is the leading global marketer of innovative, premium products across multiple brands utilizing a relationship based selling method. Product brands and categories include design-centric preparation, storage and serving solutions for the kitchen and home through the Tupperware brand and beauty and personal care products through the Avroy Shlain, BeautiControl, Fuller Cosmetics, NaturCare, Nutrimetics, and Nuvo brands.