Zija International Celebrates At 10-Year Anniversary Event
September 29, 2016
By Nicole Dunkley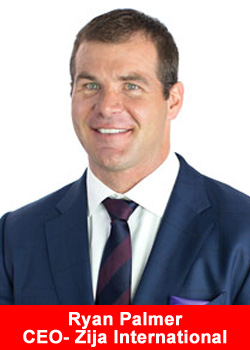 Zija International recently held their annual Zija Summit where thousands from across the globe came to Salt Lake City, Utah, to see new products launched, hear from guest keynotes and corporate executives, receive training from field leaders, and much more!
Attendees were the first to learn and purchase the eight new products launched at the event. The new products included:
Core Moringa Plant Protein
Zija's Plant Protein Nutritional Supplement Shake Mix contains a complete protein extracted from Moringa oleifera leaves—providing each serving with 20 grams of 100% plant-derived protein. The proprietary gluten-free, soy-free and vegan formula will help you feed your body with maximum nutrition.
The product features beneficial herbs and extracts to provide a powerful combination of appetite suppression, energy and focus throughout the day.
GenM Fresh Citrus Shampoo
The product gently cleans away dirt, oil, sweat, buildup, and other pollutants with a burst of natural lemon, bergamot and orange essential oils. The sulfate-free, paraben- free, Moringa-infused formula is also naturally scented and colored.
GenM Fresh Citrus Conditioner
The product softens, moisturizes and nourishes, allowing dry, brittle hair to be rejuvenated, healthier, and more manageable. Replenish your hair with the vitamins and minerals needed to maintain a luminous shine.
With Améo Essential Oils like Vetiver, Patchouli, Geranium, Balsam Fir, Copaiba, Spruce, Frankincense, Lemongrass, Myrrh, and Sandalwood, users can experience skin-restoring, healing, and cell-protective properties. Moringa oil and shea butter both provide pure hydration and much-needed nourishment to worn out feet.
Améo Whitening Toothpaste
The valuable ingredients in Améo Whitening Toothpaste are expertly combined to create a creamy, minty and effective product that reveals your brightest smile. With added Améo Essential Oils like Spearmint, Tea Tree, Myrrh, Lemongrass and Clove, you can experience a clean mouth and lasting fresh breath in a more natural way.
ProShield Foaming Hand Soap
Cleaning your hands with ProShield Foaming Hand Soap not only helps eradicate odors, but also provides a lasting, fresh scent that will uplift the mind. With Améo Essential Oils like Clove, Cinnamon, Lemongrass, Orange, Lemon, Rosemary, and Eucalyptus Radiata, ProShield Foaming Hand Soap has a sizeable amount of beneficial properties.
Air Therapy Mundo Ultrasonic Diffuser
Mundo's Latin translation means to cleanse—which is exactly what this modern diffuser offers users. Its ultrasonic technology breaks down the mixture of water and oils into millions of particles, dispersing and refreshing any room with its 360° spray nozzle.
Along with a refreshed brand, a new website (zijainternational.com), a free app (Life Unlimited Mobile App), and exciting new promotions launched from the main stage, Zija Summit attendees received motivation from Erik Weihenmayer and Major Lisa Jaster.
Erik became the only blind person to reach the summit of Mt. Everest in 2001, has climbed the highest points on every continent, and recently kayaked the entire 277-miles of the Colorado River through the Grand Canyon. Major Lisa Jaster is one of only three women to graduate the United States Ranger program—one of the most difficult combat training courses in the world! She was the first female Army Reserve officer to become a Ranger. Both speakers provided examples of endurance, personal development, optimal health, and overcoming obstacles!
The EQUIP by Zija Store and Expo was also a highlight for those at the event. The store and expo included free cooking demos and samples, a spa area featuring free foot massages, a sprawling SWAG area containing new clothing, tools, and accessories, a 360° photo booth, an area to participate in free fitness classes, a section to donate to the company's non-profit organization, and much more.
The company is ready and excited to hold their Zija Summit 2017 event on October 25-28, 2017. Those interested can register today at zijasummit.com.
ABOUT ZIJA INTERNATIONAL
Zija International, a privately-held and privately-funded business founded by Kenneth E. Brailsford and led by Ryan Palmer, develops natural health, wellness, and beauty products. The company operates in more than 50 countries worldwide, pioneering the #NaturalHealthRevolution to help individuals achieve Life Unlimited.
Zija has seen consistent growth every year since it was founded over 9 years ago and has received several awards, including and being named the Fastest-Growing Company in Utah by Utah Business Magazine. It has also been recognized on fastest-growing and top-revenue lists by Inc. Magazine, Direct Selling News and Utah Valley Magazine, and has received industry-specific MarComm, American Business (Stevies), and Davey Awards.
With corporate offices located in Lehi and more than 4 million sq. ft. of state-of-the-art warehouse, shipping and manufacturing facilities located in Utah, United States, Zija International employs more than 200 individuals and has the capacity to grow to more than two billion dollars in annual sales.