Nutrilite To Revitalize Amway Thailand Growth
October 19, 2016
By Nicole Dunkley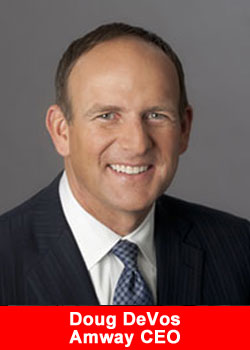 Amway (Thailand) Co, a leading multi-level direct sales company, expects its sales this year will grow by 5% to 17.2 billion baht.
That growth is higher than the overall industry projection, which is forecast to grow only 3% this year after two years of flat growth because of the economic downturn and people's low purchasing power.
Kittawat Ritteerawee, the company's managing director, said the growth of Amway Thailand is being driven by Nutrilite food supplement. There is high demand as Thais are more concerned about their health and well-being.
"Sales of Nutrilite products grew 15% in the first nine months of this year, up from single-digit growth on average during the past few years," he said.
This will make the sales contribution from Nutrilite rise to 51% of the company's total sales this year, compared with 48% last year.
Artistry make-up products are expected to contribute 13% of sales, water purifiers 14% and the remaining 22% other items such as personal care and agriculture products.
Amway Thailand expects its sales next year will grow by 3-5% because of the continuing popularity of Nutrilite, particularly weight management products.
Mr Kittawat said the company has applied its global strategy — Healthy You, Beautify You, Perfect You — to sell Nutrilite along with Artistry products.
"With a positive economic outlook next year, we expect our direct sales business will grow by 3-5%," he said.
The Thai economy is expected to expand at 3-4% next year, up from 2.9% this year, on the back of infrastructure investment, projected the National Economic and Social Development Board.
However, the 70-billion-baht direct sales industry is getting very intense and players have to adjust to digital technology and online shopping.
US-based Avon Products has decided to withdraw its Thai operations after 37 years of presence here.
The direct sales business has been severely affected by the sluggish economy. New players continue to enter the market, resulting in fiercer competition, said Mr Kittawat. Avon is the first major direct sales company to quit the Thai market following several smaller exits.
Some Thai direct sales companies such as Giffarine have expanded their business to neighbouring countries where demand is very strong and there is less competition.
He said the greying of Thailand is an interesting trend that will influence the Thai direct sales business over the next five years.
"Amway is preparing itself by providing products and marketing strategies to serve the elderly, who have high spending power," said Mr Kittawat.
About Amway
Amway is a $9.5 billion direct selling business based in Ada, Michigan, USA. Top-selling brands for Amway are Nutrilite™ vitamin, mineral and dietary supplements, Artistry™ skincare and color cosmetics and eSpring™ water treatment systems – all sold exclusively by Amway Business Owners. Global sales in 2014 made Amway the No. 1 direct selling business in the world, according to the Direct Selling News 2015 Global 100. The company's annual sales figure includes revenue from direct selling operations and other business holdings.
Source: Bangkok Post