Raychel And Glenn Small – Vida Divina Achieve 6 Figures Income Under 30 Days
October 19, 2016
By Team Business For Home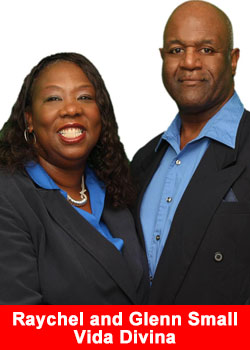 Raychel Stokes Small and her husband, Glenn Small, live in North Carolina and now have Vida Divina representatives in over 30 countries. Within their first month of commissions, Raychel has hit over 6 figures in earnings, reaching the rank of Double Diamond before her first residual commission was paid out.
Their story is one of humble beginnings. After being in the Network Marketing Profession for 37 years, Raychel had experienced the ups and downs, virtually losing everything, leaving Raychel and her husband ready to walk away from the profession forever.
In 2014, she reached out to Armand Puyolt for mentoring, not expecting him to reach back out to her, but he did. Because of this one random act of kindness, a friendship was formed, and due to that one chance conversation, she continues to support Armand because he was "a man with a plan who genuinely cared about people," and that was something that was very rare to be found in the industry.
It was because of this rarity that Raychel and Glenn decided to give the industry one more chance, and with Raychel's continued belief in the MLM Industry, they continued to fight for their dream.
When Raychel and Glenn heard about the launching of Vida Divina, they knew that they had to be part of the story, even more so that Armand Puyolt was the founding CEO. So together, they took a leap of faith with Armand and jumped into history. Glenn Small tells us, "What Armand never knew is we had virtually lost just about everything, we were months behind in rent, car payments, even our furniture had been picked up, and all we could do was put our clothing in suitcases.
There were times when we did not know how we were going to pay the next bill or where the next meal was going to come from." Raychel then adds, "The one thing I do remember was Armand telling us that if we would just hold, have faith, believe in our 'Why,' and work like we had never worked before, that Vida Divina had the potential to change our lives life forever.
"You know, we did just that. We went to work. Speaking to people, motivating them, encouraging them and letting them know that this was the opportunity that they had been seeking.
We truly believed the Lord knew how much pain and sacrifice we went through, but we remembered that our CEO, Armand Puyolt' said 'just push and don't let anything set you back,' and that's what we did."
"I find it hard to believe how many people quit before Vida Divina launched or stepped away right before it exploded. Many people have found reasons to be worried, whether it be about product arrival, back offices or training. Many truly do not understand what it takes to launch a company, to be a pioneer. It's about helping the next person to achieve and get what they want. If people would realize it is about building others, everyone could see the success that they seek.
"We were all given the honor to be at the ground floor level, to be a pioneer, it's not easy and it was not meant to be, if it was, everyone in the world would be doing it. But if people could just hold on to their Why, their vision, what brought them to Vida Divina, they will see the rewards that they have sowed into others begin to manifest for themselves."
With their belief in Jesus Christ, the company Motto "Lead With Love," and along with their personal Motto "It's Not About Me, but About You," Raychel and Glenn believe that many will begin to achieve their dreams and accomplish so much. "
"We look forward to the day when we can see everyone we personally sponsored walk across the stage of success so that we can congratulate them. Vida Divina is special, what Armand built here is amazing, giving the opportunity for everyone that wants it to be able to succeed. You know people will be people, they will have their opinions, but here, I can see that everyone active in our Vida Divina Family is winning and that's what MLM is all about: making everyone WIN," Rachel and Glenn commented.
We have seen many impressive companies come from the MLM arena, Vida Divina will be one of those companies, in our opinion, who will be huge in a short time to come.
When reflecting on Rachel and Glenn's story, Armand Puyolt commented,
"It is impressive to see people who had to come back from rock bottom, having lost almost everything, and to catch and ride this Ark on the tsunami wave and to crash the beach in huge way, this is what has happened in the first 30 days for Raychel and Glenn, that's why we built this company. Raychel was one that not only believed in what we were doing here at Vida Divina, but took charge with the field and really is on a way to create a powerful story."
About Vida Divina
Vida Divina was founded by MLM Legend Armand Puyolt, who has been in the Top Earners ranks for years in the MLM arena as a distributor. Now as CEO of Vida Divina, Armand Puyolt has a footprint into 10 countries, each with impressive Vida Divina corporate buildings and training centers.
Vida Divina also currently ships their products to over 30 countries and owns its own manufacturing facility with over 260 patents for unique products. As a debt free company, Vida Divina was created to be the Ark: to cary as many people to success as possible, helping people from all walks of life to have an opportunity to change the future of their family and themselves for life. For more information please visit www.vidadivina.com