Top Leader Alex Morton – How To Recruit Leadership Into Your Team
October 6, 2016
By Team Business For Home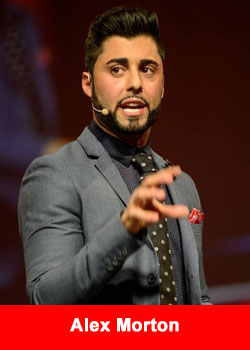 I've been full time in this profession for about 5 years now. During this time, I've been fortunate to have sponsored over a dozen 6 figure earners (6 figure earner means at one point in their career they earned on average $8K a month for a calendar year) as well as a handful of 7 figure earners ($80,000/Month for a calendar year.)
Now, I am a big believer in organic building, grass roots, bottom up, mostly because my first 4 years were just that. However, if/when you can land a BIG DOG it can produce wonders for your team & for the company.
Furthermore, this is where it gets interesting, THE VAST MAJORITY OF THE BIG LEADERS I'VE ENROLLED INITIATED THE CONVERSATION WITH ME. Most of them made the first initial point of contact. I wasn't swimming in their inboxes, sending packages to their homes, spamming them with funnels, no. What I want to talk about is how YOU can recruit level 10 leaders into your team.
7 WAYS TO RECRUIT LEGENDARY LEADERS ONTO YOUR TEAM.
1. WHEN YOU'RE GOOD YOU'LL TELL EVERYONE, WHEN YOU'RE GREAT THEY'LL TELL YOU:
This means that you will eventually get to a point in your career where you've proven yourself over and over again where people will be calling you to join. The way YOU get there is by being consistent over periods of time, always adding value on social media, & producing results.
This one is the hardest because you sincerely need to become a figure of authority in this business & be known as someone who's going to win no matter what. I am not the best, not even close, I'm about 38% of my potential, however my biggest enrollment of my life which happened this past month, he called me. & all he has had to do was say, Hey, this is where I'm going. & they ALL are enrolling with him. This one takes time, but it will be yours if you can be consistent long enough, continuously find ways to win, add value all over the place, & keep your intentions pure.
2. BE REAL:
Seems easy enough. Don't act like your the most innocent butterfly in the world & behind closed doors you're a POS. Just be who you are, all the time. You don't need to fake it. You don't need to impersonate someone else. Just be real and be you.
Top leaders respect that. Back in the day there were some people who had problems with me in my past company, wanted me to tone it down. All of my main mentors in the industry advised me to not tone it down & keep BEING ME, BEING REAL. So whether you're in front of 2, 200, or 200,000 online, BE YOU.
3. BE DONE WITH THE HYPE:
Top leaders are used to the big promises. They are used to people telling them everything they want to hear. Be upfront about your company. The good, bad, and ugly. Just last night on a launch call with 50 leaders coming in I said, Look, we're not perfect. We are a work in progress. But I believe the fact your people can earn money with the products without recruiting anyone, we have creative control on the marketing side, & our pay plan is dollar for dollar, it simply makes the most sense. They we're all ecstatic. No need to over hype. I used to over hype. Like over over over hype, it only lasts as long as your willing to work 24/7. No one wants that.
4. DON'T BE AFRAID TO TAKE IT AWAY:
Look, you want them in your business. However, they need to know that you're going to do it with or without them. Period. You don't need them. You don't need anyone. Give them all the info they need, answer all their questions, but let the know you're busy building & to let you know their decision. You have the cookie & they are hungry, never forget that.
5. DON'T TRY & CLOSE THEM ON YOUR OWN:
It doesn't matter whether you're the #1 earner in the company or a straight assassin MLM ninja, utilize a 3rd party. I saw this first hand in my first company, & it was legit. When you get the owner involved, or another credible source, you make them feel more important & it helps you validate why your company is the bomb. The magic of the third party will help you close more leaders, more often.
6. BE A HUMAN: When it was virtually public knowledge I was open a few months ago I got hounded by annoying network marketers. One guy called me and had the owner, yes the owner, on the other line. Don't be that guy. Don't talk contracts, throwing leaders under them, all that crap. I didn't care, and neither will they. Ask about their story, their goals, their vision, and what they're looking for. Cut the MLM nonsense and build a friendship first. Be a human being.
7. BE A TREND SETTER, PIONEER:
Create a movement. Force yourself into becoming a leader. Plant your flag. I've seen tons of people do this and then they went from people to leaders. This one takes guts. Think… YPR. Go extreme. Use your company as a vehicle to spark change, change people's thinking, shift their mentality, make them better people. Start a revolution. People want to follow someone who's willing to risk it all, lay it on the line, go all in. Be that person. Because when you do, you'll become a magnet for attracting leaders.
These are 7 ways to recruit rockstar leaders into your organization. Overall, the best way is to build like crazy, make a name for yourself, be a pioneer, & soon they'll be calling you to sign up.