WOR(l)D Global Network Introduces Lifelog
October 6, 2016
By Team Business For Home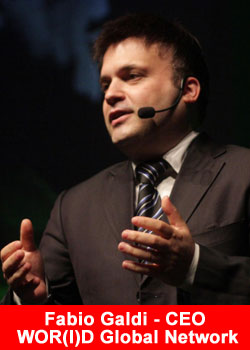 According to a Wor(l)d Global network press release:
It is fair to say that your life won't be the same.
Lifelog is the incredible recording system of all data provided by Helo, which can track your life and associate it to memories, pictures, texts and audio.
All these data regarding your health and your body allow the creation of a bio-profile that you can consult at any moment from all devices, giving you the chance to re-experience your life through all the recorded data, moving back and forward on your timeline, seeing again itineraries, locations and visited countries.
LifeLog also includes LifeOracle, a complete report and analysis system which will provide you, periodically, with suggestions and analysis of your data, to help you understand your lifestyle trend, to act consequently and to considerably improve your health, through personal consults based on the dedicated analysis of your data.
Lifelog today enters its Beta phase which will last 3 months. During this period LifeLog will record all your data and will wait 90 days before it starts sending you reliable data and detailed reports of your activities, having had the time to geto to know you. During this period you will receive a progressive status of the acquisition of your data and you will be able to monitor, from your backoffice, the correct recording process.
Lifelog is an essential part of Helo system, sharing with it data and obviously the powerful App, and it's accessible through the Loyalty Membership, or by purchasing Helo Pro Plan services.
For all details, please download the PDF file.
Don't lose the data on your health and activity. Activate now your LifeLog and use LifeOracle to improve and grow your lifestyle.
The revolution of M-Health has just begun.
About WOR(l)D GN
WOR(l)D also referred to as World GN is a global multi million dollar company that offers services in the telecommunications, renewable energy, technology and mobile Telecommunication. With 15 offices Worldwide, along with their numerous awards won recently, WOR(l)D is recognized as one of the most prestigious opportunities in the industry.
Its current headquarters is in the United States with its major offices in the United States, Singapore, India, China, Russia, Ireland, Dubai, Tunisia, Brazil, Turkey, Thailand, Vietnam, Columbia, Paraguay, and Hong Kong. For more information please visit www.worldgn.com