Youngevity and Cart Ripple Bring Direct Selling and Retailers Together
October 7, 2016
By Team Business For Home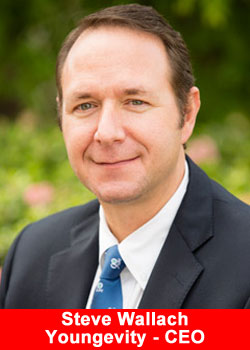 Youngevity International, Inc. (OTCQX: YGYI), a global direct marketer of nutritional and lifestyle products, and also a vertically integrated producer of gourmet coffees for the commercial, retail, and direct sales channels recently announced at the company's See the Change Convention in Salt Lake City, UT the launching of Cart Ripple, an online and mobile shopping app as part of their ecommerce shopping program.
Cart Ripple features more than 2000 retailers in over 20 categories including electronics, apparel and footwear, food and wine, books, gifts, pet care, travel and more.
A small sampling of stores that are on the Cart Ripple platform include Walmart, Kohls, Target, Starbucks, Macys, Best Buy, Foot Locker, Sephora and Nordstrom's.
The participating retailers offer special sales promotions, discounts and cash back to the Cart Ripple consumer. An additional feature is a price comparison tool that allows a shopper to scan or enter an item to compare the best prices available at Cart Ripple's ecommerce stores.
At the See the Change convention Youngevity distributors were first able to become registered users of Cart Ripple's app. Cart Ripple allows the distributors to personally benefit with savings, special deals, and cash back as they shop, and in addition, to refer other consumers to the app and website and participate in the cash back created from the purchases of others.
This is continually extended as each consumer tells a friend, referring a new generation of friends and family shoppers from which the original distributor receives benefits.
Steve Wallach, CEO of Youngevity stated,
The combination of Cart Ripple and Youngevity was so intriguing and such a natural fit for our organization and distributors that as I tried to find reasons not to bring the two together, I continued to feel more and more compelled that it was right to put Cart Ripple in the hands of our people, as shoppers and as virtual sales people.

We believed that many were already shopping at these stores, as were their friends, so why not make shopping a more economically rewarding experience.
Dave Briskie, President and CFO of Youngevity stated,
We feel the marriage of direct selling with thousands of established retailers is such an exciting opportunity to all involved. Cart Ripple gives our distributors, their customers, and their customer's friends a robust shopping experience, along with financial incentives and benefits that fit Youngevity's model so well.

Our thoughts were 'why not save money or get paid for shopping at the retailers you're already spending at.' Once we were able to create a structure that we felt could work for everyone participating in the Youngevity-Cart Ripple combination we believed our distributors would embrace this opportunity immediately, and the rippling would begin.
David Rutz, VP of Global Services at Youngevity said,
The Cart Ripple app and website were designed with one purpose, saving consumers money and doing so conveniently! We are all finding ways to do things more efficiently with smart phones, and Cart Ripple is designed to meet consumers right where they are.

The price compare option provides fast price comparison for savings to users, with special deals, discounts and cash back bonuses to amp those savings up. We believe it is all about the simplicity and the savings, and when you couple the friends and family aspect which gives users cash back on the shopping of those they refer, you've got the recipe for a ripple effect!
About Youngevity International, Inc.
Youngevity International, Inc. (OTCQX: YGYI) (www.YGYI.com) is a fast-growing, innovative, multi-dimensional company that offers a wide range of consumer products and services, primarily through person-to-person selling relationships that comprise a network of networks.
The Company also is a vertically-integrated producer of the finest coffees for the commercial, retail and direct sales channels. The Company was formed after the merger of Youngevity Essential Life Sciences (www.youngevity.com) and Javalution Coffee Company in the summer of 2011. The company was formerly known as AL International, Inc. and changed its name to Youngevity International, Inc. in July 2013.