Younique Products In The UK Celebrates Two Years – 550,000 Reps
October 14, 2016
By Team Business For Home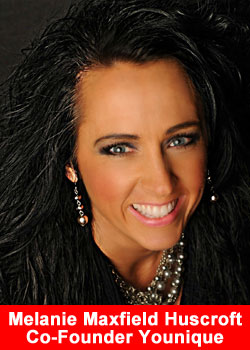 Direct sales beauty company Younique Products – a Triple A+ classified opportunity by Business For Home – based in Lehi, Utah, USA, celebrates two years of welcoming UK Presenters to a global Y-Family of over 550,000 independent distributors.
The Younique Virtual Party™ pioneer launched into the UK in October 2014 and reached 999 Founding UK Presenters in 23 minutes, faster than any established market to date. The now 30,000 active Presenters in the UK have since hosted thousands of virtual parties and are proud business owners, thought-leaders, and economic contributors.
The Second Anniversary Celebration will include a UK fundraiser goal, free shipping on new Presenter Kits in the UK, and public events in London, UK, on October 29, and Birmingham, UK, on November 5. All are welcome to attend the events and experience Younique makeup demos, giveaways, and time with Younique Founders Derek Maxfield and Melanie Huscroft.
Younique was created to be a timeless brand that exceeds cultural fads and is dedicated to more than just makeup, proving that the creator of Moodstruck 3D Fiber Lashes+, the 3D mascara that took the makeup industry by storm, is so much more than mascara. The Younique Foundation (TYF) is the primary example, and is the premise of what Younique stands for today, inspiring hope in women who were sexually abused as children or adolescents by hosting retreats to help them find individual healing.
In honor of its second anniversary, the UK is showing their support for TYF by setting a donation goal of £20,000 ($25,000 USD) to sponsor the healing of 10 childhood sexual abuse survivors. All UK residents are encouraged to get involved by using the hashtag #UK4TYF on social media and donating at https://tinyurl.com/UK4TYF.
Despite its unprecedented growth, the UK Presenter Family continues to blossom with every new market launch (an average of three new markets per year), product release (bi-annually), and high sales season (October–December). Younique also fosters an environment of sisterhood and openness, encouraging all Presenters to dedicate themselves to uplifting, empowering, and validating all women around them.
And with such a strong social media presence, Younique Founders pride themselves on keeping an open dialogue with Presenters in every part of the world, a rarity in the direct sales industry.
About Younique
Younique's mission is to uplift, empower, validate, and ultimately build self-esteem in women around the world through high-quality products that encourage both inner and outer beauty and spiritual enlightenment while also providing opportunities for personal growth and financial reward.
Younique is the first direct sales company to market and sell almost exclusively through the use of social media. A Younique Virtual Party™ bridges the huge world of social media and the traditional home party model.