ForeverGreen Q3 Sales Down 50% To $8 Million
November 16, 2016
By Nicole Dunkley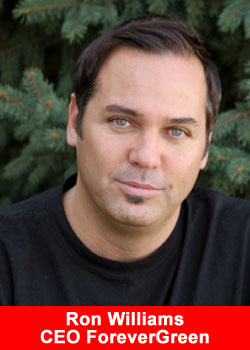 ForeverGreen Worldwide Corporation, a leading direct marketing company and provider of health-centered products, announced today financial results for the third quarter ended September 30, 2016.
During the last couple of years, the Company has focused on top line revenue growth. The Company's focus has now shifted to driving Company profitability, which in turn will drive shareholder value.
The nine month period in 2016 has seen the Company implement changes, regarding general and administrative expenses, which will reduce costs and put the Company in a much better position to deliver future positive shareholder results. While the company has seen a decline in the top-line revenue, the cost cutting initiatives have reduced the break-even point by almost 50%, commented CFO Jack Eldridge.
The Company continues to look for opportunities to improve upon or expand the restructuring and cost cutting initiatives implemented in the first, second and third quarters.
As previously mentioned, management has prompted cost cutting measures to reduce overhead and anticipates the November launch of Prodigy-5 will grow revenues.
Pre-orders for the product currently total more than 30,000 cases of product. New products have been and will continue to be introduced to bolster Member recruiting and product sales, commented CEO Ron Williams.
Third Quarter Financial Results
Sales decreased to

$8,238,081

from

$16,606,907

for Q3 2015
Gross profit decreased to

$5,959,975

compared to

$12,723,987

during Q3 2015
Operating loss was

$512,362

compared to operating loss of

$278,462

Net loss totaled

$631,620

or

$(0.02)

EPS versus a net loss of

$371,401

or

$(0.01)

EPS
Excluding non-recurring costs, net loss totaled

$631,620

versus net loss of

$371,401

during Q3 2015
Interest expense increased to

$152,399

or 1.8% of sales compared to

$76,633

or 0.5% of sales during Q3 2015
Deferred revenue of

$91,907

compared to

$87,396

for

December 31, 2015
Third Quarter Highlights
Dr.

Balamurali Ambati

, Ph.D., M.D. joined ForeverGreen's scientific advisory board

With the addition of Dr. Ambati, ForeverGreen also acquired the exclusive, proprietary technology, Nutrisorb

Announcement of new global Xpress model product, Prodigy-5

Rick Redford

joined the team as an executive team leader to help drive global sales. Redford brings over 25 years of successful Direct Selling industry experience

August saw the announcement of ForeverGreen's continued commitment to overall cost reductions and a path to profitability
Results for nine months, ending September 30, 2015, included:
Sales decreased to

$30,980,113

versus

$49,884,864

Gross profit decreased to

$21,793,786

from

$37,769,200

Operating loss was

$1,272,323

versus an operating loss of $$1,039,763 during the first three quarters of 2015
Net loss decreased to

$964,420

or

$(0.04)

EPS as compared to a net loss of

$1,482,820

or

$(0.06)

EPS during the first nine months of 2015
Interest expense totaled

$384,207

compared to

$215,849

during the comparable period in 2015
Total assets increased to

$9,222,912

from

$7,781,738

on

December 31, 2015

Total liabilities increased to

$11,432,816

from

$9,188,688

on

December 31, 2015
CFO Jack Eldridge concluded, Cost saving measures deemed to be effective have included a reduction in labor force, restructuring of lease agreements, revised pricing of certain products to enhance sales incentives, and a marketing plan which involves more interaction with a broad scope of customers and Members.
On October 18, 2016, as part of our expense restructuring initiative, the Company negotiated the exit from one building lease so that they could consolidate the corporate offices and warehouse all within the same space. The consolidation has been received with very positive feedback from both employees and field sales leaders.
About ForeverGreen Worldwide
ForeverGreen Worldwide Corporation develops, manufactures and distributes an expansive line of all natural whole foods and products to North America, Australia, Europe, Asia, Africa and South America, including their new global Xpress offerings, PowerStrips, SolarStrips and BeautyStrips. They also offer their new North America weight-management line Ketopia, along with Azul and FrequenSea, whole-food beverages with industry exclusive marine phytoplankton, a line of hemp-based whole-food products, immune support and weight management products, Pulse-8 powdered L-arginine formula, 24Karat Chocolate.