Industry Icon Ed Mercer Achieves Success With Global Wealth Trade
November 11, 2016
By Team Business For Home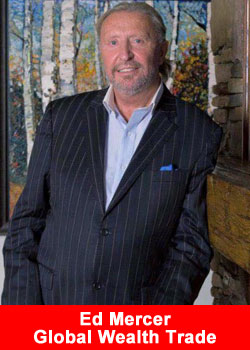 Ed Mercer achieves Regional Ambassador level in record time and talks to businessforhome.org about his new MLM home.
"It took 50 years but I found my home with Global Wealth Trade (GWT Corp.)
I never thought after spending half a century in MLM as a high performing distributor with over a million distributors in my teams, that I would find a company that is so unique that gives you the feeling that you just got in to MLM :)" says Ed Mercer.
Those are important words coming from someone with the vast experience of Ed Mercer. Businessforhome.org has been covering the growth and progress of GWT Corp since 2010 and they were amongst the very first to be given AAA MLM rating by businessforhome.org. Awards & accolades are something GWT Corp is very accustomed to as they also holds an A+ BBB rating which is the highest rating a company can achieve.
Different, unique, one of kind, revolutionary and like are the types of words GWT E-Mall Operators like Ed use to describe the company's unique approach to MLM distribution and products.
"I spend 2/3 of my life in health and wellness MLM companies but I am really enjoying this company. It is a totally different way of marketing and the retention rate and monthly distributor activity rate of buying products is out of this world and something I have never seen in any health & wellness company in my life. When you launch your E-Mall with GWT Corp you feel that you are in a real business and not some MLM gig and that is refreshing and what MLM was meant to be"
https://www.youtube.com/watch?v=H52nWFM0zYU
Since 2010, Businessforhome.org has always rated GWT as one of the top opportunities for both comp plan strength and product uniqueness and desirability. But the word is out that GWT is about to release their "prestige" level anti aging skincare line up that has the GWT world totally revved up and excited.
"The anticipation is high and E-MALL Operators are jazzed about the up coming FERI Flawless skincare line up says Ed.
GWT 's track record for the past decade clearly shows they don't just release products, they design to dominate the market so we are losing sleep because this 5 product skincare line up has some incredible surprises for the skincare world"
Businessforhome.org asked the GWT Founder Ramin Mesgarlou who was also on our first inductee Hall Of fame list why he decided to go in to Skincare from Fashion and luxury and here is what he said.
" GWT is competing and thriving in the affordable fashion and luxury market and all our competing designer companies like Chanel, Armani, D & G etc have all released their skincare or cosmetic line up so it was natural for us to enter this incredible market.
Our advantage over other MLM skincare companies is that we formulate to complete and beat the major brands so our quality is at the "prestige" level where MLM skincare companies release at the lower Masstige level".
We know based on the initial testing, FERI Flawless anti aging skincare collection will create incredible testimonials from happy clients who seek nothing less than the best from their skincare. The best part is we are competitively pricing the prestige grade Flawless collection to be highly competitive with the current MLM "masstige" grade skincare companies.
Ed, Mercer adds with a chuckle..
At my age I don't buy anymore green bananas if you know what I mean so I wanted a company that is safe yet not mature and GWT is the only MLM opportunity that has a decade of success track record, debt free yet with less than 50,000 E-Mall Operators and VIP clients spread over 165 countries.
This is truly an opportunity of a lifetime and for me it took a lifetime to find it (chuckles). Over the past 50 years I have made lots of friends in MLM and I want to open the pathway for all of you to contact me if you need more information about this unique and record setting opportunity.
I say record setting because the top earners in GWT who have hit six figure monthly incomes, did it with less than 5% of the teams that I had to build in health & wellness companies for the same income and to me this means that the average person has a real shot with GWT to get wealthy. As the Founder always says "To The Billion" and I am glad I am riding and part of building that title wave.