James Lavelle Achieves Success With ARIIX
November 15, 2016
By Team Business For Home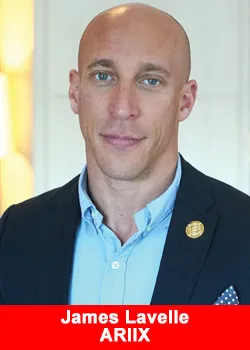 ARIIX — The Opportunity Company™ – a Triple A classified opportunity by Business For Home – proudly inducts James Lavelle as the newest member of its Founders Club, the pinnacle of success within the company.
To join the Founders Club, a Representative must demonstrate remarkable character and leadership, display strong contractual compliance, enjoy top earnings, and command an exceptional reputation in the field.
Furthermore, induction comes only at the unanimous vote of all 7 ARIIX Founders, making it the highest honor awarded any Representative.
With only 15 other members, this distinction places James in a group of the most elite innovators recognized as top leaders in network marketing. An industry first, ARIIX Founders Club members enjoy rights and benefits never seen before, such as policy and procedures recommendations, voting decisions in any compensation plan modifications, Representative compliance, and participation in future profits in markets they have developed.
The road to James' induction was not an easy one. A self-described unruly student, he was eventually expelled from school. Following the death of his father, and with no formal education, he realized he needed structure and joined the military.
After a 15-year career, James stumbled upon network marketing as a means to support his daughter, using the structure and principles he learned in the military to guide the successful team he leads today.
James wanted to find a company that stood out in the industry. Impressed by innovations such as the ACTIV8 Compensation Plan and Representative's Bill of Rights, he chose ARIIX, where he immediately began breaking sales records in the United Kingdom. James became the fastest advancing Representative in company history, achieving Founders Club rank after just one year.
"Network marketing is for everyone," says James. "Your background and academic qualifications don't matter. As long as you have the desire, you can achieve anything."
"Advancing to this rank is no easy feat. James has proven his tenacity and business acumen, and it is with great pride that we extend a warm invitation to him to join the ARIIX Founders Club. We look forward with anticipation to James' future success," says President and Founder, Mark Wilson.
"I knew when I was inducted into the ARIIX Founders Club I was joining the most exclusive group in all of network marketing, and that it would change my financial future forever. Knowing that my family will share in profits for generations to come is a game changer and why so many great, young leaders are choosing to build their future in ARIIX," says fellow Founders Club member, Steve Swartz. "Join us; you'll be glad you did!"
About ARIIX
ARIIX is an international opportunity company that creates superior, exclusively branded products marketed through independent representatives. To promote healthy living, ARIIX develops toxic-free products through collaboration with world-renowned experts in the health, wellness, and fitness industries.
With a devotion to helping others unleash their potential for good, ARIIX provides a global vision, outstanding management experience, driven industry leadership, and a valued partnership that protects its representatives.
This partnership is underscored by a patent-pending compensation plan created to give the greatest benefit to the representative. The ARIIX opportunity and brands are available in Australia, Canada, Greater China including Hong Kong SAR and Taiwan SAR, Japan, Kazakhstan, Mexico, The Netherlands, UK, Belgium, Russia, Singapore, South Korea, and the United States. For more information, please visit www.ariix.com or phone 1-855-GO-ARIIX.