MonaVie Founder and USANA Vice President Dallin Larsen Launches VASAYO
November 17, 2016
By Team Business For Home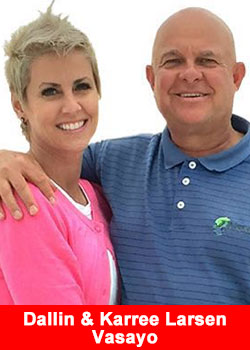 Dallin and Karree Larsen announce the launch of their most ambitious project yet – VASAYO.
Since 1989 the Larsens have helped start and create companies that have generated billions of dollars in earnings for Brand Partners (distributors) and stakeholders.
Dallin Larsen: "Karree and I seem to have been blessed with the ability to create  'culture' and the companies that allow people to prosper."
"After having helped build two very successful companies in direct selling, Karree and I have decided to spend the rest of our days building a third and final company" he continues: "We have every intention of leading this company until our last breath."
The Larsens believe that a Brand Partner cannot earn too much income and as such they say: "We intend to reward the new Brand Partners, better than ever before in direct selling. Every decision we make, will put the interests of our Brand Partners first and foremost, so that they will want VASAYO to be their permanent home."
VASAYO's product story has now been unveiled and it is clearly a powerful disrupter in the marketplace. It becomes an important key in the future of the industry, which will be dependent on acquiring and maintaining a massive and loyal customer base.
Karree Larsen: "We are ready and excited for the challenge!" she further states:
"We are creating an entity for people to stay and flourish for the rest of their lives and we are confident that everyone will see, the enormous opportunity that lies ahead."
Dallin concludes: "If you have the background, the desire and the energy, and see yourself as a potential leader in this our final venture, we want to connect with you."
About Vasayo
Visit: www.dallinlarsen.com view the "Special Message" video.
Join us on Facebook: https://www.facebook.com/Vasayo/