Nattida And Chad Chong Wor(l)d GN Achieves President Millionaire Top Rank
November 3, 2016
By Team Business For Home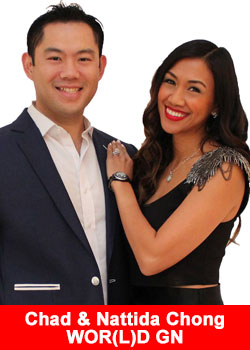 After achieving the rank of Grand President just a few short months ago, Wor(l)d's Power Couple in the USA, Nattida and Chad Chong, have done it again.
In just a few weeks, Nattida and Chad have achieved the rank of President Millionaire, and all in one of the fastest times in Wor(l)d history.
There is also another amazing fact: Nattida and Chad are the first President Millionaires from the United States in WOR(l)D history.
The rank of President Millionaire is the main entrance to the top of Network Marketing, and Nattida and Chad have every characteristic needed to break all the records. They have made the list of the Top Network Marketing earners­­—a list that already includes 12 Wor(l)d distributors.
Their passion and professionalism have become their distinctive sign, and they are sure to continue to raise the bar and continue climbing, overcoming challenges, and leading.
About Chad & Nattida
Chad & Nattida Chong were still in their twenties when they earned their first million dollars in network marketing. As a Power Couple, they bring about a unique and new perspective to the industry. They are the best examples of passion, determination, and perseverance.
Today in their thirties, they have huge organizations all throughout USA, Asia, Europe, and Australia. With over 33 years of combined experience in relationship marketing, international expansion is just one of their expertise. Chad & Nattida are team players and all-star trainers that have successfully broke hundreds of ranked professionals as well as helped thousands of individuals around the world break into their success.
They have been featured in multiple publications internationally, and have used their platform to train thousands at various events.
Parents to 3 beautiful children, Chad & Nattida chose Network Marketing as their vehicle to financial and time freedom. Because of this industry, they have the ability to spend infinite time with their family while securing their future, and realizing their long life dream of opening their own orphanage. Knowing firsthand the benefits that network marketing has to offer, their passion is to help others do the same.
With their strong work ethic and concrete understanding of the business, they continue to help their leaders and organization on a very personal level to help create systems, structure, and tailored plans that would bring their business partners to a whole new level. It is clear that they have a passion to help others, and with their unique, fun, and natural way of training, anyone can excel beyond their imagination.
For more information of Chad & Nattida, please go to www.ChadNattida.com
About WOR(l)D GN
WOR(l)D also referred to as World GN is a global multi million dollar company that offers services in the telecommunications, renewable energy, technology and mobile Telecommunication. With 15 offices Worldwide, along with their numerous awards won recently, WOR(l)D is recognized as one of the most prestigious opportunities in the industry.
Its current headquarters is in the United States with its major offices in the United States, Singapore, India, China, Russia, Ireland, Dubai, Tunisia, Brazil, Turkey, Thailand, Vietnam, Columbia, Paraguay, and Hong Kong. For more information please visit www.worldgn.com