Top Leader Ivan Tapia Joins iMarketsLive
November 3, 2016
By Team Business For Home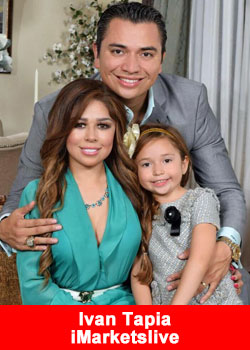 Ivan Tapia fell in love with the industry 7 years ago.
Ivan served as a major catalyst in the global expansion of his company. With a personal organization responsible for generating over $49 million dollars in revenue and leading over 55,000 people spanning all corners of the globe.
Ivan has helped thousands reach their goals and dreams.
Why iMarketsLive: "I decided to join iMarketsLive because as a leader you want to be in a position to help the most amount of people achieve their dreams and goals and develop massive long term residual income.
I was also very impressed with the leadership of the CEO Mr. Christopher Terry & the Executive Vice President of Sales Alex Morton. I've never been this excited in my career."
Alex Morton on Ivan Tapia:
"I've worked with incredible leaders in my career. However, Ivan is by far the most dynamic and talented individual I have ever brought on board. His work ethic, passion, massive results, and a heart for people is unmatched. He's a game changer.
About iMarketslive
International Markets Live providers highly effective tools & services to help traders make the right decisions in the ForEx & Futures markets. Our services are exclusive and can only be accessed through our membership.
Led by a brilliant & experienced executive team, the company is growing exponentially and is currently helping of thousands of traders become successful. For more information please visit www.imarketslive.com