Torsten Sedlmeier – ASEA Achieves Ambassador Diamond Leader Rank
November 16, 2016
By Team Business For Home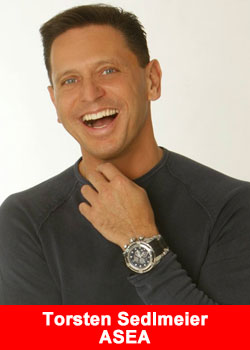 Torsten Sedlmeier is the first independent associate in Europe to reach redox-signaling giant ASEA's new rank of Ambassador Diamond, reports Robert Schwenkler of OurGlobalHomeBusiness.com.
ASEA, LLC, which launched in late 2010, manufactures the world's first and only Redox Signaling supplement. These Redox Signaling Molecules in ASEA support the vital activity of cellular repair and replacement that are necessary for optimal cellular health.
In March of 2016, ASEA announced the rollout of its new Ambassador ranks, and Torsten quickly earned the rank of Ambassador Diamond.
Torsten attributes the success of his business to an emphasis on helping others.
Try not to become a person of success. Rather, become a person of value, and then bring value into other peoples' lives, says Sedlmeier.
To learn more about Torsten and ASEA, please visit TorstenSedlmeier.com
About ASEA™
ASEA, an emerging global leader in cellular health, is dedicated to providing a sustainable lifestyle by delivering high-quality cellular health products through a principle-based, direct-selling distribution model.
Harnessing science, ASEA offers first-to-market products that utilize molecules native to the human body that enhance vital cellular functions. ASEA's cornerstone, patented redox signaling technology boosts the body's natural cellular renewal and communication processes, improving total body health and allowing every system of the body to function better.
Currently, redox signaling technology is available in two first-to-market products: ASEA® Redox Supplement, the company's flagship liquid supplement, and RENU 28®, a revitalizing whole-body skin gel. Founded in 2010, ASEA currently operates in the United States and 24 international markets.
For more information about ASEA products or the accompanying business opportunity, visit www.asea.net.