Wor(l)d International Announces 35% growth On Q3 Sales
November 22, 2016
By Team Business For Home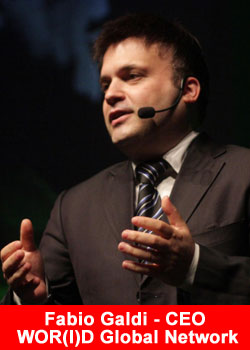 WOR(l)D International -a Triple A classified opportunity by Business For Home – announces 35% growth on Q3 sales and a projection of 50% growth for Q4
WOR(l)D Network's momentum is growing. This is reflected not only in the large numbers of top leaders joining the company, but also in 35% growth for Q3. Projections for Q4 are an additional 50% growth.
"This is not an unexpected result," said Fabio Galdi, WOR(l)D CEO. "With the opening of Asia and the reinforcement of the United States, WOR(l)D Network is headed straight for our target: to become a multibillion dollar company and to forge a new path in multi-level marketing history through our innovative technologies."
The recent launch of HELO, the wristband designed to improve health and lifestyle, has skyrocketed WOR(l)D's sales. It has also received attention around the world for WOR(l)D and its products and services with continued endorsement and support of Toshiba.
With the upcoming launch of BioZen, a sticky microchip designed to reduce the harmful effect of electro smog, WOR(l)D is continuing to create a new direction for the multi-level marketing industry.
"2017 will be a year of great innovations, great events and unbelievable products," said Galdi. "We can't wait to see what's ahead."
About WOR(l)D International.
Headquartered in Miami, WOR(l)D stands apart as a leader in the global markets of media, mobile and wearable technologies. In the 15 offices distributed throughout the world, WOR(l)D is employing the brightest minds and best professionals, constantly investing in great ideas and highly motivated people. Every WOR(l)D product reflects its passion for research, innovation, and environmental responsibility.
WOR(l)Dis a recognized as a leading player in the drive towards a more economically stable, socially connected world. Leveraging a new business paradigm, WOR(l)D seeks to transcend every social and economic boundary. Using innovative products and a proven, direct selling business model, WOR(l)D is helping people around the globe to transform their lives—and their livelihoods.
For more information, please visit www.worldgn.com