Buyezee 500% Increase In Visitors
December 10, 2016
By Team Business For Home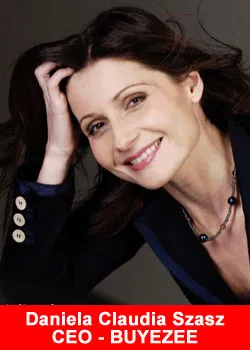 Cyber Monday – 28th November 2016 – has seen another record breaking day for online sales in North America and many countries in Europe, a day that can produce a months worth of sales in just 1 day, as consumers flock to the internet to secure great deals online.
Buyezee – a global provider of fully serviced eCommerce shops – reported an increase of over 500% in visitors to their network of nearly 20,000 websites from the previous week, producing a record number of sales of everything from fashion, household goods, through to children toys which was their number 1 category for sales.
This increase in shopping activity, combined with the continued growth of eCommerce and online accessibility has also resulted in massive growth in Buyezee's recruitment of Shopreneurs and thus, sales of the Shop Owner software as individuals and companies recognise the wealth being generated in this marketplace.
Daniela Claudia Szasz – Buyezee CEO commented:
"Buyezee is rapidly establishing itself as a forerunner in the Global digital opportunity marketplace; month on month, we continue to generate more success stories whilst gathering momentum"
Antony Spear – Buyezee COO, added:
"We are excited for 2017, with new products, new marketplaces and continued increased opportunities"
ABOUT BUYEZEE:
A global provider of fully serviced eCommerce shops that can empower individuals and companies alike to immediately brand, promote and profit from the Multi Trillion Dollar marketplace with little or no previous knowledge or experience.
BUYEZEE's innovative eCommerce products are marketed person-to-person by independent Shopreneurs on a global basis.
From its conception, BUYEZEE™ have chosen and consulted the most competent people available, thus ensuring that no beta testing is carried out at the expense of the network. Much time, money, planning and resources has been invested into product development to make this a powerful and leading global opportunity.
More Information can be obtained from our corporate website: www.buyezee.net