Chad and Nattida Chong Wor(l)d GN Achieves Double President Millionaire Top Rank
December 18, 2016
By Team Business For Home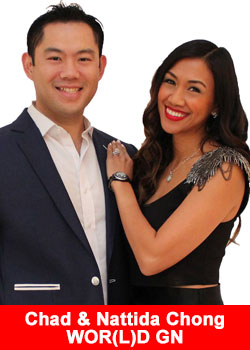 After achieving the rank of President Millionaire in November, Wor(l)d's Power Couple in the USA, Nattida and Chad Chong, have done it again.
After launching their business in the Americas in the month of September, along with their rapid growth in Asia, Australia, and Europe, Chad & Nattida Chong become the ONLY & Fastest Double President Millionaires with Wor(l)d, putting them at #1 income earner in North America for Wor(l)d, and #37 on the Top Worldwide MLM Earners list.
They express their utmost gratitude to their sponsors, first and only Grand President Millionaires, Nat & Chanida Puranaputra, who are also the Global Master Distributors, #13 on the Top Worldwide MLM Earners, and the #1 income earners at Wor(l)d. This also would not be possible without the vision and genius of CEO Fabio Galdi and his executive team.
"The coming of Chad and Nattida is proof of our unbelievable momentum" Fabio Galdi, CEO of WOR(l)D said. "In the past months we've worked with them closely to understand the potential of the markets where they have huge influence on, and we are thrilled of the enormous potential of this couple. It is obvious what they are capable of doing. WOR(l)D is becoming a stronger family, day after day."
https://www.youtube.com/watch?v=tabB2N_Y4Go

Chad & Nattida exclaim, "What excites us the most isn't our accomplishment. What excites us is that we are just your average couple. We aren't the reason behind all of this achievement. It's because we're not part of just another company. We're part of an industry game changer. We're part of a MOVEMENT. That is why we know that anyone we bring on board can experience this same success. Now THAT is exciting."
In the past few months Chad & Nattida Chong were able to build an organization of over 30,000 people, producing 1 President Millionaire, 1 Grand President, 1 Double President, 4 Presidents, 2 Grand Diamonds, 3 Double Diamonds, and 12 Diamonds in the USA alone. This doesn't include the hundreds of Diamonds and above outside of the USA.
Chad & Nattida express, "Finally we are truly able to change people's lives. No hype. But real results happening right before our eyes."
To find out more, connect with Chad & Nattida at www.CNWorldGN.com
About WOR(l)D GN
WOR(l)D also referred to as World GN is a global multi million dollar company that offers services in the telecommunications, renewable energy, technology and mobile Telecommunication. With 15 offices Worldwide, along with their numerous awards won recently, WOR(l)D is recognized as one of the most prestigious opportunities in the industry.
Its current headquarters is in the United States with its major offices in the United States, Singapore, India, China, Russia, Ireland, Dubai, Tunisia, Brazil, Turkey, Thailand, Vietnam, Columbia, Paraguay, and Hong Kong. For more information please visit www.worldgn.com