Zrii International Recognized For Outstanding Performance In Asia
December 5, 2016
By Team Business For Home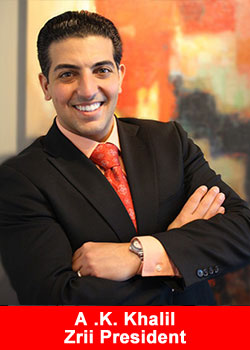 Zrii International, a global distributor of nutrition and personal care products – a Triple A+ classified opportunity by Business For Home – received multiple accolades for its performance in the Asian region this past weekend at the Nexus Connexion Conference in Kuala Lumpur, Malaysia.
Awards were presented to Zrii in recognition of the company's extraordinary growth and outstanding performance in Asia, as well as its exceptional branding and customer relations, ethical business practices, corporate and field leadership, and more.
"We are extremely proud and excited to be recognized for our success in Asia in such a short period of time," says Zrii's Founder & CEO, Bill Farley. "Zrii is a perfect fit for the people of this region, who have a natural affinity for business and a cultural appreciation for holistic health solutions."
Added Zrii President A.K. Khalil, "This is just the beginning for Zrii in Asia. Our vision is to help millions of people here transform their lives through health, wealth, and personal growth opportunities."
Zrii received multiple awards at the Nexus Connexion Conference on November 27th, 2016, including:
The 2016 Asia YES Brand Award – For excellence in establishing a trusted brand in the minds of distributors and customers alike, and developing sustainable branding initiatives that ensure future growth.
The 2016 MLM Golden Midas Award – For establishing a strong presence in South East Asia, exceeding $1,000,000 USD in monthly sales, and excellence in product positioning.
The MLM Outperform Award Company of The Year 2016 – For establishing self-regulating mechanisms that ensure compliance with regulations and strict ethical standards, which benefit the environment, communities, employees, distributors, and consumers.
The 10th Global Business Mentorship Award 2016 – Awarded to Mr. A.K. Khalil, President of Zrii, for outstanding leadership and business mentorship.
The Legend 2016 in Malaysia Million Dollar Independent Entrepreneur (101 MDIE) – Awarded to Dr. Thresa Chan (Ruby), Jaz Lai (Ruby), Shah Khan (10-Star), and Henry Mak (8-Star), for having earned over $1,000,000 in annual commissions and bonuses, and for having built individual teams consisting of over 1,000 individuals.
The MLM 360 Leader Award 2016 – Awarded to Tan Kim Lai (10-Star), Capitan Syed Mohamed (9-Star), Ivy Henebrey (8-Star), Ivan Gan and Peggy Yong (8-Star), and Gary Liu (8-Star), for having earned over $1,000,000 in annual commissions and bonuses.
Over the past 18 months, Zrii International has established a brand presence in Asia by opening offices in Kuala Lumpur, Singapore, and Hong Kong. Zrii sells premium, Ayurveda-inspired wellness and skincare products, all endorsed by the Chopra Center for Wellbeing.
The company's products feature a powerful combination of time-tested, nature-based ingredients and modern scientific techniques. Zrii has expanded from three markets to more than twenty markets spanning three continents around the world.
About Zrii International
Zrii was founded in 2008 with the goal of helping people learn how to live without limits. From life-changing opportunities for personal and financial success, to premium-quality products that support an active lifestyle, Zrii is empowering people to make their dreams come true around the world.
Zrii is proud to have partnered with the world-renowned Chopra Center for Wellbeing, headed by Dr. Deepak Chopra, to bring extraordinary products and unparalleled opportunity to people in the United States, Canada, Mexico, Asia, Australia, New Zealand, and Central and South America.